Lawyers React To Planned Deployment Of 257 Judges For Election Petitions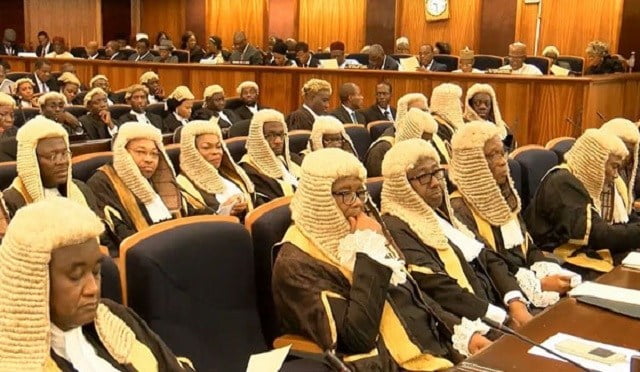 Some Senior Advocates of Nigeria (SAN) have reacted to the planned deployment of 257 judges for election petitions.
Naija News reported that no fewer than 257 judges will be deployed for election petitions across the country.
The 257 judges were drawn from different states' High Courts, Federal High Court, FCT High Court, and the National Industrial Court across the country, including the National Industrial Court.
The document explained that the selected judges "will be responsible for adjudicating disputes arising from the general elections into various offices."
However, some SANs have reacted to the number of judges to be deployed saying it would affect other aspects.
This online news platform gathered that a SAN identified as Prof Taiwo Osipitan told The Punch that the figure was much and it would definitely affect other minor and non-political cases in each of the judge's jurisdictions for about six to eight months.
Osipitan said that would mean that some cases would have been automatically adjourned for about six months.
He stated that "It is like robbing Peter to pay Paul. When the judges are away in the next six or eight months, all the minor non-political cases will be adjourned, so it means the litigants and the lawyers will have their cases automatically adjourned for six months and when they come back they will need time to settle down."
Similarly, another SAN, Mike Ozekhome also bemoaned that asking over 200 judges across the federation to leave their duty post is a development that would adversely affect other cases in the judicial system.
Ozekhome asserted that the development might scare away potential foreign investors.
Corroborating both their points, another SAN, Kunle Adegoke said instead of deploying that many judges which would affect the judicial system, the NJC should look into appointing retired judges and magistrates to assist at the election tribunals.
He suggested that many of the judges retired at 65 and 70, and they are sound to adjudicate on such matters, which they had been doing all their lives.