Interim Government Would Be Calamitous – Olanipekun Warns Politicians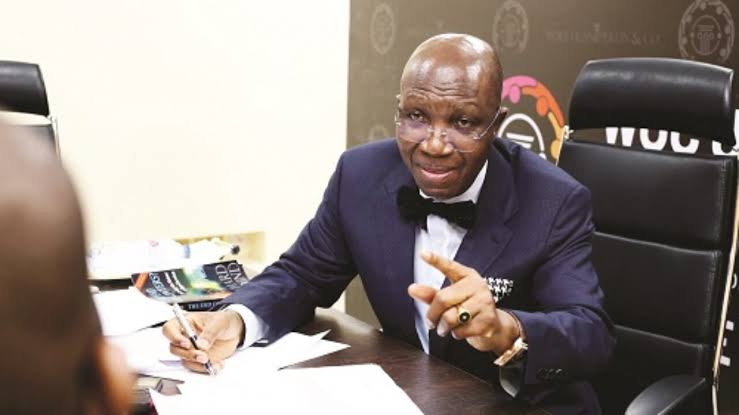 A Senior Advocate of Nigeria and immediate past Chairman of the Nigerian Body of Benchers (BoB), Wole Olanipekun, SAN, has condemned plots to stop the inauguration of President-elect Bola Tinubu and impose an Interim National Government (ING).
Speaking at a public function the legal body organized to mark the end of his tenure as its Chairman, Olanipekun described the alleged plot to install an interim national government in the country as a call for anarchy.
Why stating that such a plot would fail, the senior lawyer said the outcome of an interim government would be disastrous.
The senior lawyer, a former President of the Nigerian Bar Association (NBA), called on aggrieved politicians to "ceasefire."
Olanipekun said, "there is no provision in the 1999 Constitution, as amended, under which an interim government could be accommodated.
"Whenever there is any election anywhere in the world, there is bound to be disagreement. But will you, because of every disagreement, call for the system to be disbanded? This time around, people have gone to court. That is a civilized thing to do. The law is there. Let them exploit the opportunities provided by the constitution and the statutes. But for some people to sit down somewhere and call for an Interim National Government, I, as a lawyer, don't know the jurisprudence that will accommodate it. I am not saying that all is well. In every institution created by God for man, there will be minuses. You don't have it hundred percent anywhere. I am not saying there are no room for improvement, but don't let us call for anarchy.
"With the little knowledge of law and jurisprudence that God has endowed me with, I don't know how we are going to accommodate it, and I can be quoted. Who will be the President? Or better still, what will be the nomenclature? What will happen to Governors at the state level? I want to plead as an elder statesman, for those calling for Interim National Government to cease-fire. Let them introspect. Let them think of what is going to be the outcome. The outcome is going to be calamitous. It is going to be an ill wind that is not going to blow us any good. It is going to blow all of us into the Atlantic."