Whiskey Of Over N5 Million Spotted On Wike And Fayose's Table Get People Talking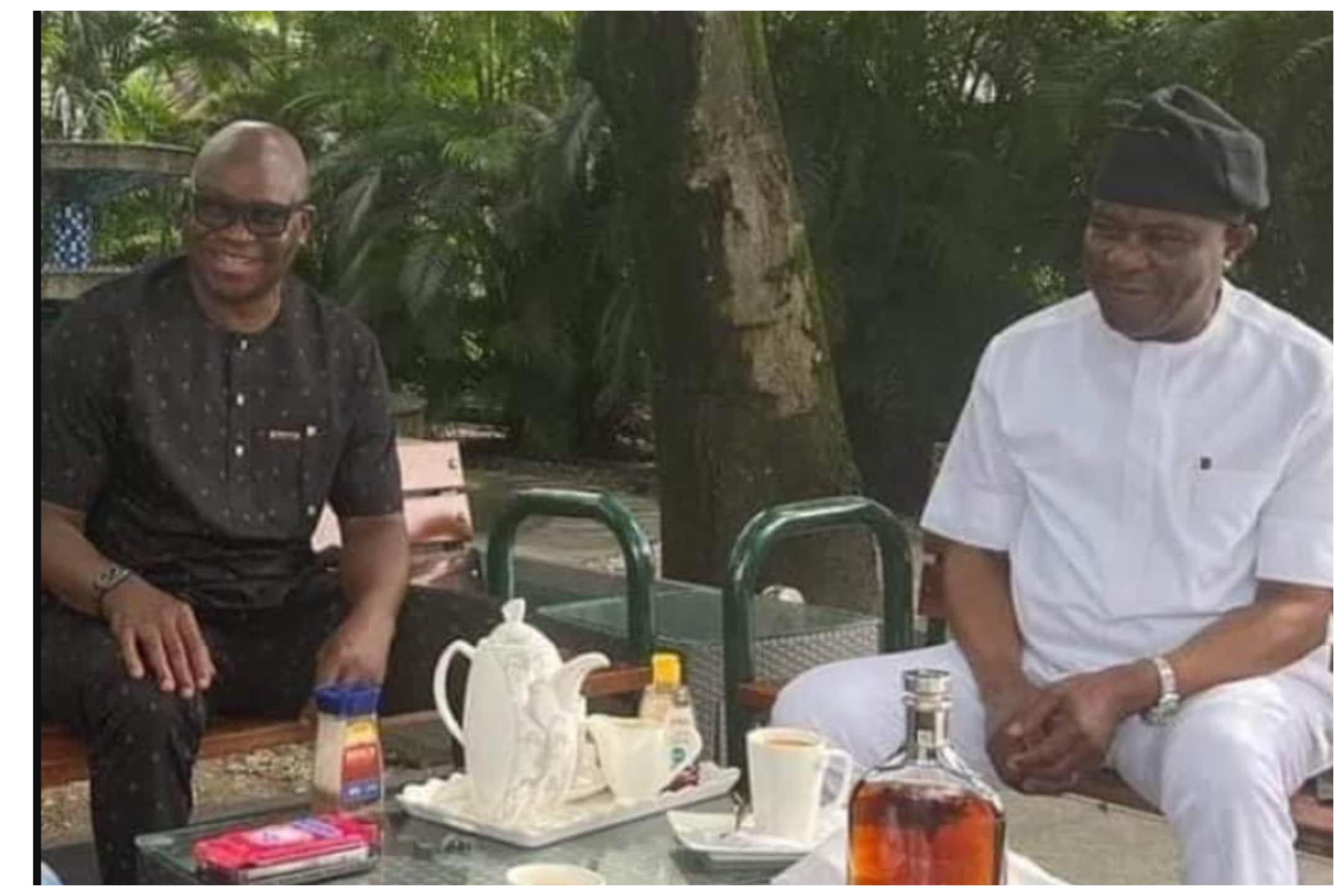 The Rivers State governor, Nyesom Wike, and former Ekiti State governor, Ayo Fayose, have sparked mixed reactions online, over the cost of whiskey spotted on their table.
Naija News recall that the immediate-past Minister of Transportation, Rotimi Amaechi had alleged that Wike spends N50 million from the state resources on alcohol every week.
The former governor of Rivers described his successor as a drunkard, who should not be allowed to waste taxpayers' money on frivolities.
Amaechi said the amount of money Wike spends on alcohol in two weeks, is almost equivalent to the amount he spent to build one primary school when he served as governor.
In the photo making the rounds online, Wike and Fayose were spotted consuming a drink said to be worth about five million Naira.
While some slammed them over the frivolous drink, others claimed they can afford it considering their status.
@AfamDeluxo wrote: "Personally, I don't believe Wike spent £10,000 on Dalmore Scotch Whiskey. The kind of gifts politicians receive from the ppl is startling. Don't be surprised that was a gift. Some of you know what I am talking about. This doesn't take away the fact that wike remains a jerk!"
@CossyCosydiva wrote: "Omo , Port Harcourt people una dey see? So does it mean Ameachi was right when he said Wike spends 50million a month for alcohol? This one is about 9m naira. Choi!"
@Spotlight_Abby wrote: "This is Rotimi Amaechi's recent claim that Wike spends up to N50 million fortnightly on drinks."
@jacksonpbn wrote: "This is how Gov Wike is starting his Friday #TGIF, blowing £9,949.90, an equivalent of over N5million on a bottle of Whiskey. Dangote, Africa's richest won't be spending this ridiculous amount for a bottle of alcohol. Only a looted money would be spent like this. Tueh!"
@Sports_Doctor2 wrote: "When Peter obi said he does not allow people to visit him in the government house because they'll come and expect him to serve them the most expensive champagne. We all laughed and called him a stingy man for being judicious with public funds. Now see what Wike is consuming"
@JosephOnuorah wrote: "Executive Rascality – Wealth without enterprise!!! What work has Wike ever done before government – it means he got stupendously Rich by dipping his fingers in the public till."
@don-ibarhim wrote: "5 Million On One Bottle of Alcohol,How much be minimum wage all this people just want to feed their pocket and better their families life….Osalobua God who do us like this"
busolamidaniel_ wrote: "So it's a 7million drink you people are shouting on top? These men can obviously afford it and more so I don't know why it's such a big deal. If it was a celebrity I doubt you people will be complaining so much."