APC Governors Demand Arrest Of Interim Government Sponsors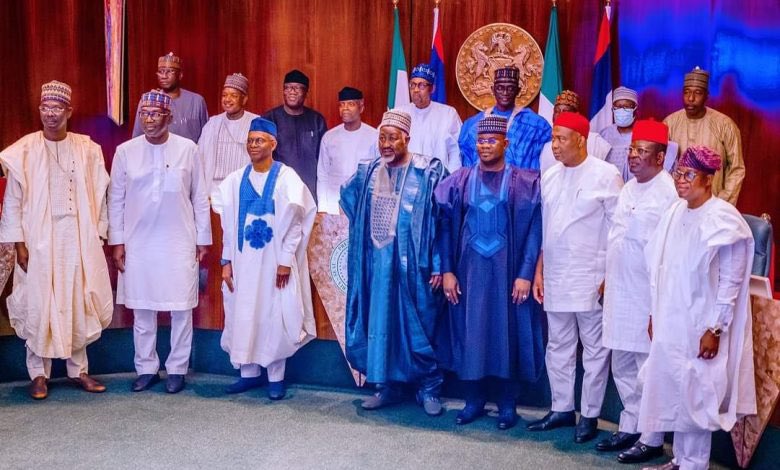 Governors elected on the platform of the All Progressives Congress (APC) have called for the arrest of elements behind the call for an interim government.
The governors charged the Department of State Services (DSS) to initiate the arrest and prosecution of those sponsoring such agitations.
The governors said the development is not only treasonable but designed to truncate Nigeria's democracy, adding that the elements are working to stop the swearing-in of the President-Elect, Bola Tinubu on May 29.
The Chairman of the Progressive Governors' Forum (PGF) and Governor of Kebbi state, Atiku Bagudu made the call in a statement released on Friday.
He said, "The Progressive Governors' Forum notes the press statement issued by the Department of State Services DSS on the unfortunate, condemnable and treasonable conduct of some undemocratic elements who are agitating for an interim government.
"We condemn such agitations. It is commendable, however, that the Department of State Services exposed the plot, and we call upon them to arrest and prosecute anyone involved.
"It is ironic that after the Presidential, National Assembly, Gubernatorial and State Assembly elections in which all the major parties recorded varying successes and disappointments in different constituencies, and with our country being appreciated around the globe, some self-serving individuals are unfortunately seeking to sabotage our democratic progress.
"Indeed, it was widely reported that the PDP and LP had chosen to go to the Presidential Election Tribunal to challenge the outcome of the presidential election, which was won by Asiwaju Bola Ahmed Tinubu of APC.
"Furthermore, in all the 36 states of the Federation, tribunals have also been established to provide an opportunity to those who participated in the various elections but otherwise felt dissatisfied, to challenge the results."
The governors called on Nigerians to remain vigilant and resist any undemocratic conduct that is capable of undermining Nigeria's democracy, noting that Nigeria has done well in promoting democracy both internally and elsewhere in Africa.
He added, "It is sad that some unpatriotic elements are nursing the evil plot for the interim government, which will amount to subverting our national democratic progress.
"It is commendable however, that the Secretary to the Government of the Federation, Mr Boss Mustapha, who is also the Chairman of the Presidential Transitional Council issued a statement restating the Federal Government's commitment towards a successful inauguration of a new President on May 29th, 2023.
"Equally, we appreciate the commitment of President Muhammadu Buhari to the transition as well as the support of all security agencies.
"We, therefore, call on all citizens to remain vigilant and continue to support Nigeria's democratic development, which the campaign for the interim government is meant to truncate."