FLASHBACK: Interim Govt Should Be Formed After Buhari's Tenure – Afe Babalola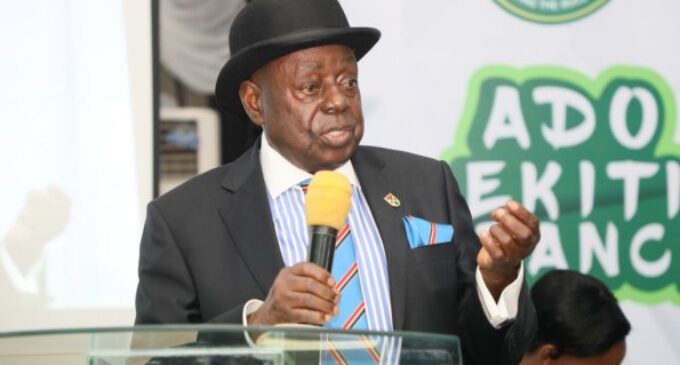 On April 18, 2022, Senior Advocate of Nigeria (SAN), Afe Babalola proposed that an interim government should be formed to steer Nigeria in a new direction.
The renowned legal luminary said the interim government should be formed after the expiration of President Muhammadu Buhari's tenure on May 29, 2023.
Naija News recalls that the founder of Afe Babalola University, Ado Ekiti,  stated these at a media briefing in Ado-Ekiti, the Ekiti State capital.
He said the 2023 general elections should be suspended, while an interim government should be in office for six months to develop "a new-look peoples' constitution which should provide for part-time legislators and the non-executive president".
Babalola added that members of the interim government should be selected from past Presidents and Vice Presidents, Ministers, and Governors, as well as delegates of prominent professional associations.
He said: "The same constitution has made politics become not only very attractive but the only lucrative business in Nigeria today.
"What this means is that any election that holds under the present scenario will end up producing transactional and recycled leaders, with no ability to turn things around.
"The new constitution should also provide that there shall be no salary, but sitting allowances only for lawmakers. It should provide a true federal system of government, instead of the expensive presidential system of government. I suggest a parliamentary system of government with a unicameral legislature.
"The new constitution should also provide a body at the local, state and federal levels to screen all aspirants on the sources of their wealth and means of livelihood."