Afenifere Crisis: Adebanjo Receives More Knocks, As Crisis Deepens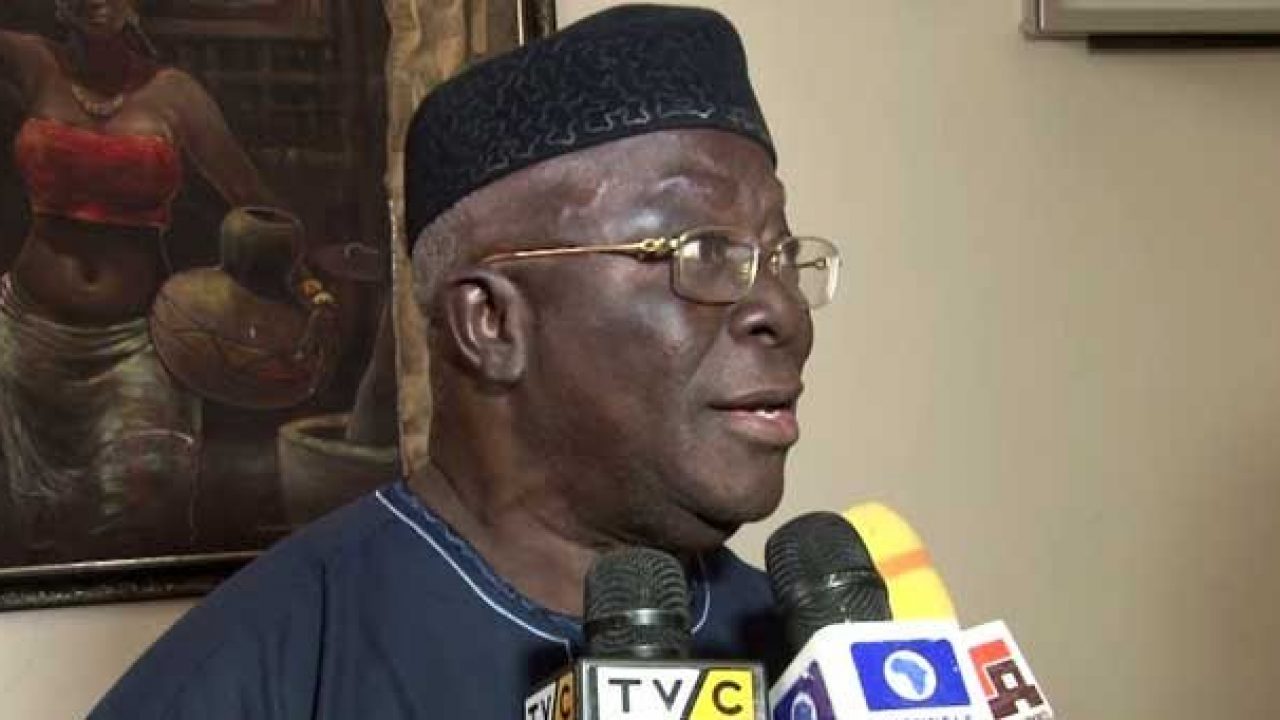 The acting National Leader of the pan-Yoruba socio-political organisation, Afenifere, Pa Ayo Adebanjo has been knocked again for the suspension of Publicity and Organising Secretaries of the group.
Naija News recalls that Adebanjo on Tuesday at the group's meeting held at his residence in Ogun State had announced the indefinite suspension of the Publicity Secretary and Organising Secretary of the group, Jare Ajayi and Kole Omololu, respectively.
The Afenifere leader had alleged that the suspension followed their act of alleged gross misconduct.
However, Adebanjo's action has attracted criticisms from within the organisation as the Ondo chapter has also kicked against the action, just like the National Leader of the association, Pa Reuben Fasoranti earlier did.
The Ondo State chapter of the group in a meeting on Thursday in Akure, the state capital, condemned Adebanjo's action saying the suspension of the two officers was unfair and not appropriate.
The chapter made its position known in the resolution of the meeting contained in a communique signed by the state chairman and secretary, respectively, Chief Korede Duyile and Mr Bakkita Bello.
The communique partly read: "The Ondo State Afenifere Leaders see the suspension of the two national officers, as not only unfair but highly violative of the Afenifere principles and traditions which had prevailed over 70 years.
"At no point was Kole Omololu, who is from Ondo State, reported to the state branch for any misconduct, lapses or abuse of office, on the need for the branch to reprimand him, neither is the branch aware of his being invited to any meetings or appearance before a disciplinary committee.
"From the foregoing, the purported suspension of our son, Kole Omololu, is hereby rejected and we also advise that the national officers be reinstated."
Meanwhile, earlier Fasoranti had not only kicked against the suspension of the two officials but also against Adebanjo's resolution at the Ogun meeting on Tuesday over the group's rejection of the victory of the president-elect, Bola Tinubu.
Fasoranti in his reaction said "This type of position is alien to us in Afenifere, which does not conduct itself as an agent of the state, let alone as an electoral umpire. We accept the results of the elections at all levels as declared by INEC until otherwise decided by competent courts in the land.
"Presently, the whole world knows that Nigeria has a President-elect in the person of Asiwaju Ahmed Bola Tinubu, a true Yoruba son and nationalist.
"We, in Afenifere, not only acknowledge this, but we also take delight in his in-coming Presidency and are confident that he will, by the grace of God, return Nigeria to the glorious position that all of us will be proud of. Which was why I also congratulated him in a personal letter I sent to him."