Simon Ekpa: IPOB Speaks On Ordering Planned Sit-At-Home In Lagos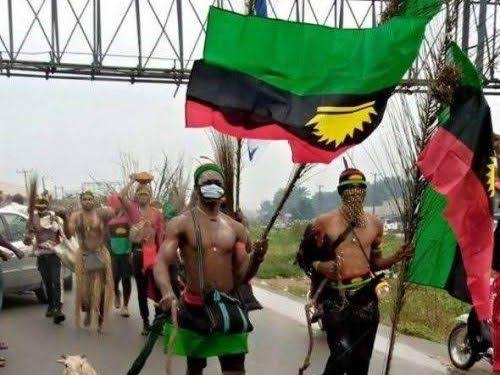 The Indigenous People of Biafra (IPOB) has distanced itself  from the recent declaration of a planned sit-at-home order issued to the Igbo community in Lagos State.
Naija News recalls that on Tuesday, Simon Ekpa, the Finland-based supporter of Nnamdi Kanu, declared that there would soon be a sit at home in Lagos Igbo community.
But the IPOB has come out to state categorically that it knows nothing about the said report and Ekpa is not a member of the group.
The separatist group, in a statement signed by it's media and publicity secretary, Emma Powerful, on Thursday, said any media organisation which associates Ekpa to IPOB would be dragged to court.
The group advanced that "The attention of the Indigenous People of Biafra (IPOB) under the leadership of Mazi Nnamdi Okwuchukwu Kanu has been drawn to the laughable and disgraceful statement making rounds that IPOB issued a sit-at-home order in Lagos State.
"The statement is false, laughable, and coming from the quarters of blackmailers to disparage IPOB and Mazi Nnamdi Kanu.
"IPOB has never issued any sit-at-home order outside Biafra Land. Anyone issuing any sit-at-home orders in Biafra or in Lagos is on his or her own and not doing so on behalf of Mazi Nnamdi Kanu or of IPOB.
"Therefore, IPOB publicly disassociate ourselves from any purported sit-at-home call in Lagos or anywhere in Nigeria, including Biafra Land at this time.
"IPOB has no faction, let alone have a factional leader. The chief infiltrator in Finland has been ignored by Biafrans in his mindless sit at homes in the East; perhaps he thinks Ndigbo in Lagos will be so daft to obey his sit-at-home order in Lagos. We know our people are wise.
"From today onwards any media outfit in Nigeria whether print media, online news, or others anywhere in the world, that makes the mistake of tagging Simon Ekpa and 'autopilot' as IPOB members or Mazi Nnamdi Kanu's disciple again must be ready to meet us in the law courts; Enough is enough!
"Simon Ekpa or autopilot group are on their own. We are not the same people. We are a peaceful movement seeking the freedom of Biafra through an UN-supervised referendum."