Full List Of Judges Nominated To Rule On Cases From 2023 General Elections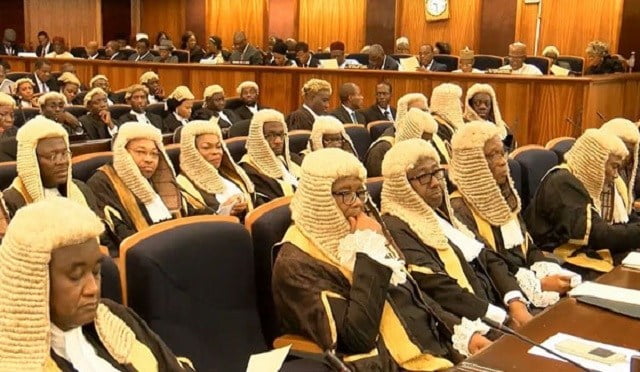 The 2023 general election conducted by the Independent National Electoral Commission (INEC) has been concluded with political parties and candidates filing petitions.
The petitions are filed by political parties and candidates to challenge the outcome of the election held on the 25th of February, 2023 and the 18th of March, 2023.
Suits have been filed before election petition tribunals across the country, with Judges expected to rule those cases.
A list of judges nominated to the election petition tribunals has been released according to Saharareporters.
See the full list of judges below:
FROM: ABIA
1. Justice C.O. Onyeabo
2. Justice Ory Zik-Ikeorha
3. Justice C.H. Ahuchaogu
4. Justice A.O. Chijioke
5. Justice K.C.J. Okereke
6. Justice L.T.C. Eruba
7. Justice Benson Anya
8. Justice Nweke Philomena
9. Justice A.O. Phoeba
10. Justice C.K. Nwankwo
FROM: ADAMAWA
1. Justice H.N.H. Joda
2. Justice B.I. Ladukiya
3. Justice Musa Usman
4. Justice K.L. Samuel
5. Justice A.J. Balami
6. Justice K.Z.U. Modibbo
FROM: AKWA IBOM
1. Justice P.P. Idiong
2. Justice A.D. Odokwo
3. Justice O.A. Okon
4. Justice F.J. Ibanga
5. Justice N. Obot
FROM: BENUE
1. Justice W.I. Kpochi
2. Justice T.A. Kume
3. Justice T.T. Asua
4. Justice P.T. Kwahar
5. Justice M.T. Ugar
6. Justice A.I. Ityonyman
7. Justice M.M. Odinya
8. Justice I. Muhammed
FROM: BORNO
1. Justice H.Y. Mshelia
2. Justice A.Z. Musa
3. Justice U.S. Sakwa
4.BJustice M.G. Abubakar
5. Justice Binta Othman
FROM: CROSS RIVERS
1. Justice F.N. Isoni
2. Justice E.O. Abua
3. Justice O.I. Ofem
4. Justice A.A. Ewah
5. Justice U.A. Ibrahim
6. Justice E.I. Ebri
7. Justice I.B. Etape
8. Justice E.A. Ubua
FROM: DELTA
1. Justice A.O. Apkovi
2. Justice F.N. Azinge
3. Justice C.N. Ogadi
4. Justice E.N. Ejiro
5. Justice T.O. Uloho
6. Justice M.O. Omovie
7. Justice C.O. Emifoniye
8. Justice C.I. Dafe
FROM: EBONYI
1. Justice H.A. Njoku
2. Justice B.A.N Ogbu
3. Justice N.E. Nwibo
4. Justice C.E. Eze
5. Justice I.P. Chima
6. Justice O. Elekwa
7. Justice T.A. Achom
8. Justice U. Onwosi
FROM EDO
1. Justice V.O. Eboreime
2. Justice J.O. Okeaya
3. Justice Irele-Ifijeh
4. Justice V.O.A. Oviawe
5. Justice I.P. Braimoh
6. Justice T.I. Eghe-Abe
FROM: EKITI
1. Justice A.L. Ogunmoye
2. Justice A.A. Adeleye
3. Justice L.O. Ogundana
4. Justice E.B. Omotoso
5. Justice A.O. Familoni
6. Justice J.A. Apuabi
7. Justice O.O. Oluboyede
FROM: ENUGU
1. Justice R.O. Odugu
2. Justice E.N. Oluedo
3. Justice N.R. Oji
4. Justice C.A.B. Onaga
5. Justice U.J. Nweze
6. Justice E.N. Alukwu
FROM: KADUNA
1. Justice E.Y.B. Lolo
2. Justice K. Dabo
3. Justice M.T. Rashid
4. Justice M.N. Sidi
5. Justice A.Y. John
6. Justice E. Michael
FROM: KANO
1. Justice M.Yusuf Ubale
2. Justice A.A. Amina
3. Justice I.M.M Karaye
4. Justice N. Saminu
5. Justice J.S. Suleiman
6. Justice S.A. Maryam
7. Justice S.M. Ado
8. Justice A.A. Maiwada
FROM: KATSINA
1. Justice A.B. Abdullahi
2. Justice A.K. Tukur
3. Justice I.W. Baraka
4. Justice B.U. Safiya
5. Justice I.I. Mashi
6. Justice L. Umar
7. Justice A. Yarima
8. Justice M.D. Hadiza
FROM: JIGAWA
1. Justice A.M. Abubakar
2. Justice A.Y. Birnin Kudu
3. Justice I. Ya'u
4. Justice N. Zargina
FROM: SOKOTO
1. Justice M.U. Dogondaji
2. Justice A.G. Sifawa
3. Justice M. Mohammed
4. Justice S. Shehu
5. Justice M.A. Sambo
6. Justice D.Y. Danjega
7. Justice B.Y. Tambuwa
8. Justice B. Ibrahim
FROM: ZAMFARA
1. Justice B.M. Tukur
2. Justice H. Mikailu
3. Justice B.M. Kucheri
4. Justice I.H. Ismaila
5. Justice U. AbdulNasir
6. Justice S.G. G/Bore
7. Justice B. Rabi
FROM: KEBBI
1. Justice U. Abubakar
2. Justice N.I. Umar
3. Justice S.B. Shuaibu
4. Justice F.H. Bunza
5. Justice S.K. Manya
6. Justice A.S. Bello
7. Justice S.U. Mukhtar
8. Justice U.A. S/Kudu
FROM: TARABA
1. Justice S. Haruna
2. Justice A.B. Abbare
3. Justice C.J. Katabs
4. Justice M.A. Badamasi
5. Mrs E. Tata (CM)
6. Mr K.A.A. Yara (UAC)
FROM: YOBE
1. Justice M.Z. Usman
2. Justice K.B. Yusuf
3. Justice M. Kyari
4. Justice H.L. Musa
5. Justice H.S. Tahir
6. Justice K.M.B Inuwa
7. Justice A.K. Kime
FROM: GOMBE
1. Justice A.M. Yakubu
2. Justice H.H. Kereng
3. Justice S.Y. Abubakar
4. Justice M. Fatima
5. Justice D.S. Sikkam
6. Justice M.A. Haruna
7. Justice B.H. Abbayo
8. Justice M.I. Gombe
FROM: KOGI
1. Justice F. Ajayi
2. Justice S. Umar
3. Justice M.M. Gwatana
4. Justice A.S. Husaini
5. Justice S. Zubayru
6. Justice B. Aina
7. Justice D. Yakubu
FROM: RIVERS
1. Justice M.O. Opara
2. Justice G.C. Aguma
3. Justice F. Onyiri
4. Justice L.T. Senewo
5. Justice F.A. Fiberesima
6. Justice L. Ngbor-Abina
7. Justice O.D. Gbasam
8. Justice S.S. Popnen
FROM: PLATEAU
1. Justice A.I. Ashom
2. Justice N.J. Dadi
3. Justice T. Zololo
4. Justice G.M. Kamyal
5. Justice V. Dadom
6. Justice D.S. Damulak
7. Justice S.S. Fomber
8. Justice B.M. Bassi
FROM: NASARAWA
1. Justice R.G. Soji
2. Justice A.M. Mainoma
3. Justice S.A. Ayiwulu
4. Justice A.A. Ozegyu
5. Justice M.A. Ramat
6. Justice J.K. Kurape
7. Justice A.T. Chanbo
FROM: NIGER
1. Justice M. Abdullahi
2. Justice S.T. Zainab
3. Justice Y.G. Bilkisu
4. Justice I. Usman
5. Justice I. Hauwa Kulu
6. Justice L.M. Amina
7. Justice M.I. Khadijat
FROM: LAGOS
1. Justice M.O. Obadina
2. Justice J.E. Oyefeso
3. Justice A.O. Opesanwo
4. Justice L.B.L. Akapo
5. Justice J.A. Kudirat
6. Justice S.S. Ogunsanya
7. Justice I.O. Akinkugbe
8. Justice O.A. Adamson
FROM: OGUN
1. Justice C.C. Ogunsanya
2. Justice O. Ogunfowora
3. Justice A.A.S. Femi
4. Justice A.O. Araba
5. Justice A.A. Adewole
6. Mr I.O. Awofeso (CM)
7. Mr D.I. Dipeolu (CM)
FROM: OSUN
1. Justice A.A. Ajeibe
2. Justice A.O. Ayoola
3. Justice K.M. Akano
4. Justice A.L. Adegoke
5. Justice M.O. Agboola
6. Justice S.A. Oke
7. Justice M.O. Okediya
8. Justice A.O. Adenji
FROM: ONDO
1. Justice O.A. Osadebay
2. Justice P.O. Ikujuni
3. Justice W.R. Olamide
4. Justice O. Sunday
5. Justice J.O. Abe
6. Justice A. Enikuomehin
7. Justice T.M. Adedipe
8. Justice A.E. Akeredolu
FROM: OYO
1. Justice G.A. Sunmonu
2. Justice O.M. Fadeyi
3. Justice E.O. Ajayi
4. Justice M.L. Owolabi
5. Justice M.I. Sule
6. Justice L.A. Ganiyu
7. Justice B.A. Taiwo
8. Justice O.A. Adetujoye
FROM: KWARA
1. Justice A.A. Adebara
2. Jus tice A.S. Halima
3. Jus tice A. Gegele
4. Justice F.D. Lawal
5. Justice J.Z. Umar
6. Justice M.A. Oniye
7. Mrs O.I. Olabisi
8. Justice K. Abdul-Latif
FROM: IMO
1. Justice L.C. Azuama
2. Justice K.A. Ojiako
3. Justice B.C. Iheka
4. Justice S.I. Okpara
5. Justice V.I Onyeka
6. Justice E.N. Eke
7. Justice K.A Leweanya
8. Justice J.I. Obichere
FROM: BAYELSA
1. Justice J.B. Egele
2. Justice TY Abasi
FROM: FCT HIGH COURT
1. Justice M.E. Anenih
2. Justice O.A. Adeniyi
3. Justice A.I. Kutigi
4. Justice A.O. Otaluka
5. Justice Y Halilu
6. Justice A.O. Ebong
7. Justice B. Hassan
8. Justice E. Enenche
9. Justice A.S. Usman
FROM: FHC
1. Justice A.A. Okeke
2. Justice M.A. Onytenu
3. Justice H.R.A. Shagari
4. Justice J.O. Abdulmalik
FROM: N.I COURT
1. Justice I.S. Galadima
2. Justice S.H. Danjidda
3. Justice K.D. Damuak