Why Afenifere Leadership Suspended Me Without Issuing Me Query – Suspended Spokesperson Reveals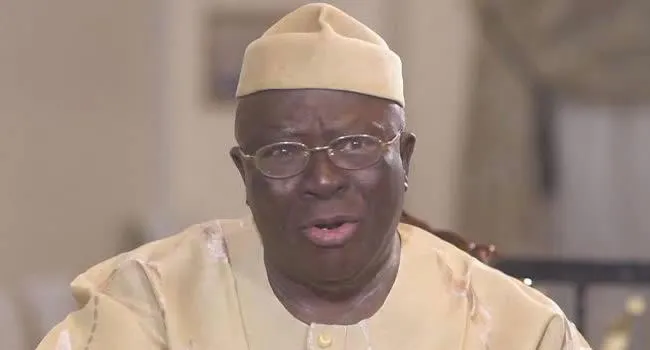 The suspended National Publicity Secretary of the pan-Yoruba socio-political organisation, Afenifere, Jare Ajayi, has accused the organisation of unfairly sanctioning him.
On Tuesday, Naija News reported that Ajayi and Afenifere's National Organising Secretary,  Abagun Kole Omololu, were sacked from their position and suspended from the group over a statement condemning a comment made by an Ohanaeze chieftain, Emmanuel Iwuanyanwu.
The duo were suspended indefinitely by the group over alleged misconduct.
According to the communique issued at the end of the Afenifere meeting held at the residence of the leader of the group, Pa Ayo Adebanjo, at Isanya Ogbo Ogun State on Tuesday, the group "observed the uncouth activities and unauthorized statements in its name and to the constant denigration of the organisation, by Jare Ajayi, the National Publicity Secretary, and Abagun Kole Omololu the National Organising Committee."
Reacting to his suspension on Wednesday, Ajayi disclosed the group never gave him and Omololu a chance to respond to the allegations levelled against them by the group's leaders.
He said: "I, and to the best of my knowledge, Abagun Kole Omololu, the National Organising Secretary, were never issued a query, let alone be asked to face any disciplinary committee.
"It is a big pity that an organization founded on principles and that is guided by ethos and regulations could take seeming disciplinary actions against any member – not to talk of officials – without giving them an opportunity to respond to whatever allegations the leaders have against them."
Naira Scarcity
According to him, his suspension is linked to two recent occasions he had issued press statements which some senior members of the group did not agree with.
Ajayi mentioned the two releases to include naira cash scarcity affecting the nation and a congratulatory message to the President-elect, Bola Tinubu.
Vanguard quoted him as saying: "In the heat of the sufferings being experienced by Nigerians in accessing their monies in the banks, I called on the federal government and the Central Bank of Nigeria to extend the deadline for the circulation of both the old and the new Naira notes by at least three months. This was early in February before the pronouncement by the Supreme Court. A top officer of Afenifere called me to say that what I asked the government to do was not the position of the organization. I asked him what the position was, the senior officer told me that the position would be stated after a meeting that was being contemplated. I said that people were suffering hence the statement I issued. And thereafter, the position of the organization on the issue was never made known to me.
"The second occasion was when some members called me to express their displeasure over the statement issued to congratulate the President-elect, Asiwaju Ahmed Bola Tinubu, after his electoral victory. Those who called me said that since Mr. Peter Obi and Alhaji Atiku Abubakar were still contesting Asiwaju's victory, it was wrong to congratulate him."