Senate President: Purge Yourself Of Corruption, It Is Not Your Turn – APC Chieftain Knocks Orji Kalu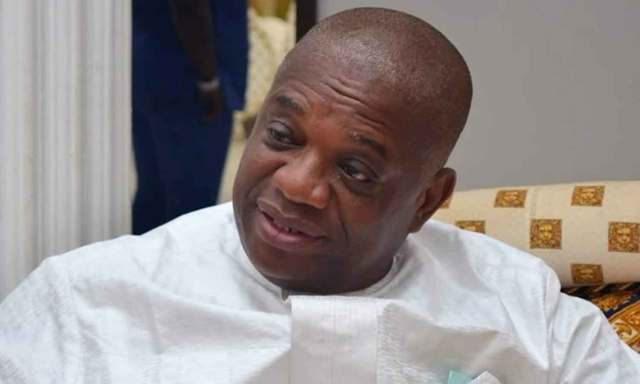 A chieftain of the All Progressives Congress (APC), Eze Chukwuemeka Eze, has slammed the Chief Whip of the Senate, Orji Uzo Kalu, for saying it is his turn to be Senate President.
In a statement to Naija News on Wednesday, Eze said Kalu was wrong to arrogate to himself the sole right to head the leadership of the 10th Senate, which would be inaugurated in June.
He urged the former Abia Governor to channel his energy towards relieving himself of the huge corruption allegation pending against him at the Economic and Financial Crimes Commission (EFCC).
"The claims by Senator Orji Uzo Kalu, the incumbent Chief Whip of the Senate, that it is his right to be elected as the Senate President is mischievous and unacceptable, seeing that he is yet to free himself from the corrupt charges still hanging on his neck and for ruining the chances of APC in Abia State through his poor style of leadership," he said.
The APC chieftain said since the ouster of the PDP administration at the centre, the South Eastern region of Nigeria had suffered serial neglect in terms of the allocation of key national offices.
He urged the APC as a party to use the opportunity within its disposal to redeem itself by ensuring that the office of the Senate President is allowed to the South-East strictly by merit.
According to the River APC stalwart, the plea became imperative since the South-West and North have produced the President-elect through Senator Bola Tinubu and Vice President-elect through Shettima.
Eze backed the position of the leadership of Ohanaeze Ndigbo and Ebonyi State Council of Nigeria Union of Journalists of their choice of Governor David Umahi for the position of Senate President.
He said: "Apart from the fact that Governor Umahi was the Southern Campaign Director of APC during the last Presidential Campaign but due to his ingenuity in politics, Ebonyi is one of the very States in Nigeria that elected three APC Senators, an APC Governor and almost hundred percent of elected APC House of Reps and State Assembly, while the opposite is the case of Senator Orji Uzor-Kalu in Abia State where the Labour Party is now the ruling party.
"I have watched this embodiment of unique feats and his magic in turning Ebonyi State from a desert to the Dubai of Nigeria within a space of eight years. I have also watched his vast connections with political leaders and stakeholders within the South East and across other divides of this nation and feel that he is the most suitable candidate for this particular office if it is zoned to the South East."