'He's Gone For Good' – Wike's Ally Reacts To Ayu's Ouster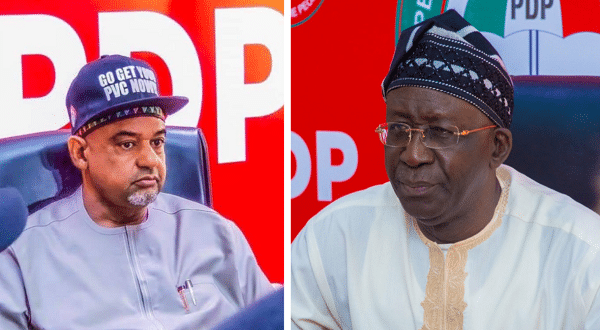 A chieftain of the Peoples Democratic Party (PDP), Ogbonna Nwuke, has hailed the removal of the National Chairman of the party, Iyorchia Ayu, from office.
In an interview with The Punch on Tuesday, Nwuke said it is a good thing that the former Senate President has vacated the office, saying that Ayu's time is up.
The Director of Publicity and Communications of the Rivers State PDP Campaign Council stated that his allies in the party can't save him now.
Nwuke said the PDP leadership must urgently convene a meeting to address the burning issues that set the party backward under Ayu.
He said: "So, it is a good thing that Ayu is gone. We don't believe that he stepped aside. His time was up and not even his friends could save him. Ayu is gone and gone for good."
Nwuke said the Rivers PDP would have preferred a Southerner to step in as Ayu's replacement.
He said, "Ab initio, the issue about a Northern chairman for the party was not a major concern. What made it a concern was that the party produced a candidate from the North against the run of play, against the basic principles of the party constitution.
"In terms of underlying principles pertaining to zoning, one will easily perhaps say if we were to take away the presidential candidate from the equation, then it will be the turn of the North to produce the chairman because the last chairman was from the South-South, Uche Secondus.''