INEC Yet To Upload 183 Constituencies Results Nine Days After Guber Elections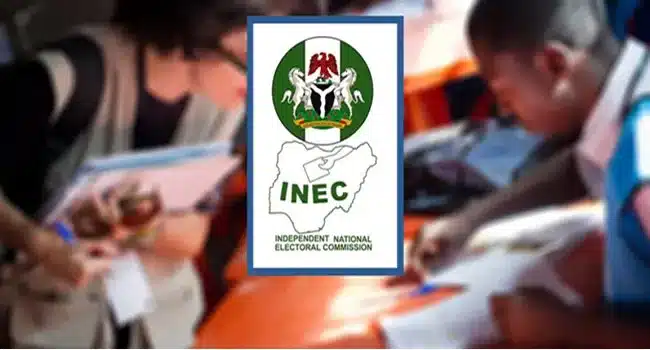 The Independent National Electoral Commission (INEC) is yet to upload the results of 183 constituencies across seven states on its Result Viewing Portal (IReV), nine days after the March 18 Governorship and State Assembly elections.
Naija News reports that some of the governorship elections have been declared inconclusive while the commission is withholding the results in some states.
According to the electoral body, Adamawa, Yobe, Jigawa, Sokoto, Kano, Kaduna and Zamfara, top states with awaited assembly election results.
From the results released by INEC, the APC won more seats in four zones (South-East, South-West, North-Central and North-East) while the PDP dominated in South-South.
In the South-East, where three assembly polls are conclusive, the APC cornered 45 seats followed by the LP 32; PDP 25; APGA 18 and YPP 6.
In the South-West, the APC won 86 seats compared to PDP's 76 and LP's 2 while one constituency is inconclusive.
APC leads in the battle for state legislatures with 421
In the battle for the 993 state houses of assembly slots, no fewer than eight parties have won 810 seats with the ruling All Progressives Congress, APC, winning the most with 421 slots.
The main opposition Peoples Democratic Party (PDP) has 303 seats; the Labour Party (LP) got 36 seats; the All Progressives Grand Alliance (APGA) got 22 seats; Social Democratic Party (SDP) got 10 seats; and Young Progressives Party (YPP) had 9.
While the New Nigeria Peoples Party (NNPP) had 8 votes, and African Democratic Congress (ADC) had one vote.
In the South-South, the PDP had the upper hand with 111 slots while the APC had 35 positions. YPP had 2 and LP one while constituencies were inconclusive.
Also, in the North-Central where four constituencies are pending, the APC won 100 seats while the PDP got 42 slots. Other parties that registered their names as winners are SDP-4, NNPP-2, YPP-1, LP-1 and ADC-1.
In the Northeast, results from four of the six states show the APC to have won 61 seats compared to PDP's 39, NNPP's 3, and SDP's 1.
How parties fared in states
South-East
Abia: LP 10, PDP 11, YPP 2, APC 1
Anambra: APGA 17, LP 8, YPP 3, PDP 2
Ebonyi: APC 18, PDP 2, APGA 1, LP 1, Inconclusive 2
Enugu: PDP10, LP 14
Imo: APC 26, Inconclusive 1
South-West
Lagos: APC 38, LP2
Ekiti: APC 23, Inconclusive 1
Ogun: APC 16, PDP1
Ondo: PDP 22, APC 4
Osun: PDP 25, APC 1
Oyo: PDP 28, APC 4
South-South
Akwa Ibom: PDP 24, YPP 2, Inconclusive 1
Bayelsa: PDP 17, APC 4, APGA 2
Cross River: APC 19, PDP 5, LP1
Delta: PDP 22, APC 7
Edo: PDP 12, APC 8
Rivers: PDP 31, Inconclusive 1
North-Central
Benue: APC 21, PDP 10, LP1
Kogi: APC 22, PDP 2, ADC 1
Kwara: APC 23, PDP 1
Nasarawa: APC11, PDP 8, SDP 3, NNPP2
Niger: APC 16, PDP 5, SDP 1, Pending 4
Plateau: PDP 16, APC 7, YPP 1
North-East
Bauchi: PDP 22, APC 6, NNPP 1
Borno: APC 28
Gombe: APC 20, PDP 4
Taraba: PDP13, APC 7, NNPP 2, SDP 1, APGA 1
North-West
Katsina: APC 32, PDP 1, invalid 1
Kebbi: APC 13, PDP 1, Inconclusive 10
Zamfara: PDP 6, Others not released
Kaduna: APC 4, Others not released