Election Tribunal: Ortom Withdraws Petition, Begs For Forgiveness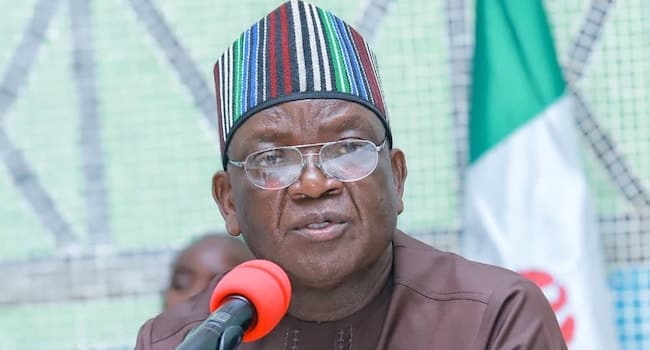 Benue State Governor, Samuel Ortom has disclosed his intention to withdraw his petition challenging the victory of the winner of the February 25 Benue North-West senatorial election.
Naija News reports that the governor said his decision to discontinue the petition at the tribunal was in the interest of peace and without prejudice to the suits filed by other candidates of his party, the Peoples Democratic Party (PDP).
The governor made this disclosure at a press briefing after he met with stakeholders from his constituency and members of his campaign council at the government house, Makurdi on Tuesday.
Ortom said he is aware the election was marred with malpractices and his reason for filing the petition was due to the inability of INEC to transmit the results.
He however pleaded with all those he might have offended knowingly or unknowingly in the course of serving the people of the state to forgive and forget the past.
While assuring the Benue people of his commitment till the end of his tenure, Ortom said he will continue to provide selfless service in all sectors of May 29, 2023.
The governor stated that "Though there was glaring evidence of malpractices including non-transmission of results electronically during the conduct of the Benue North West Senatorial election, I have taken the decision to withdraw my case from the tribunal.
"As a leader of PDP, I will continue to support the party in collaboration with other leaders to enable it to bounce back from the mistakes and drawbacks that are affecting it at the moment.
"For those, I might have offended in this journey of serving the state and our country, I seek their forgiveness, as I also forgive those who have offended me."
He applauded the resilience of the people of the state for participating massively in the just concluded elections despite what he described as 'glaring provocation and intimidation by the federal might' and also appreciated the PDP in the state for supporting him all the way.
Ortom noted that it had been an honour to serve the people of Benue State as Governor saying he always ensured equity, fairness, justice and the rule of law.
It will be recalled that Ortom, after losing his senatorial ambition to his former aide, Titus Zam, in the February 25 presidential and national assembly elections, had vowed to challenge the outcome of the election at the tribunal.