Rivers Election: Amaechi Not A Desperado – APC Chieftain Fires Gov. Wike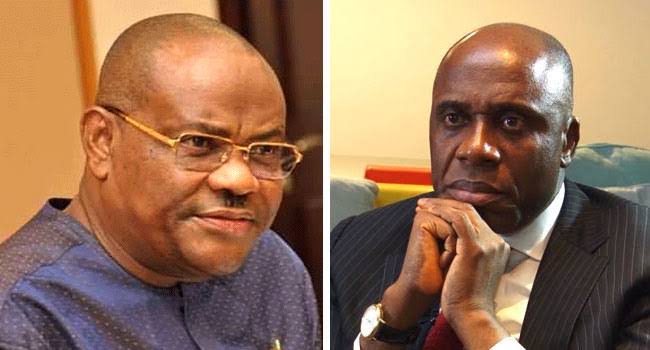 A chieftain of the All Progressives Congress (APC) in Rivers State, Eze Chukwuemeka Eze, has warned Rivers Governor, Nyesom Wike, that the victory of the Peoples Democratic Party (PDP) gubernatorial candidate in the state, Siminialayi Fubara, won't stand the heat of justice.
In a statement on Monday, Eze said the victory of evil over good is always temporary and does not stand the heat of justice, and in a matter of time, the law will make a public show of it.
He said: "Wike has remained cocooned in a potpourri of extravagant self-glory, bragging about the declaration of his candidates winners of the March 28 Governorship and State Assembly Elections in Rivers State even when the process fell short of every standard that could qualify it as anything close to an election in a society of men."
Dollar Bribe
The party Chief claimed that a compromised team of INEC ad hoc staff, corrupt men of the Police force, and other security agencies deployed for the elections in Rivers State allegedly took bribes in dollars and backed Wike and PDP to work against the interest of Rivers people.
"I watched and listened with dismay the recent outbursts of my friend and brother, Governor Nyesom Wike of Rivers State, as he boasted of his political feats and electoral victory over his boss, benefactor, and predecessor, Rt. Hon. Chibuike Rotimi Amaechi, erstwhile Governor of Rivers State and immediate past Minister of Transportation," he said.
"As one of the authorities in the politics of Rivers State, it has become imperative to highlight that Governor Wike has never won any election in Rivers State under any conducive electoral environment and cannot, therefore, claim to have defeated Amaechi and Rivers people in any such elections."
Electoral Fraud
Eze stated that the 2023 election was characterized by massive rigging, bribing, pocketing of INEC officials, Security Agencies, etc., intimidation, killing, and more.
According to the APC chieftain, Rivers State is now known all over the world as a haven of electoral fraud.
"If these instances depict electoral victories to Wike and his misguided cohorts, then their future will tell us how victorious they are," Eze noted.
Abia State
Eze, however, noted that it is not yet Uhuru for Governor Wike and the PDP in Rivers State, as the APC has a floodgate of facts that will help the court correct the "heinous errors" of March 18.
He said: "Rt. Hon. Chibuike Rotimi Amaechi, who by the time he assumed office ensured that the militants that were causing havoc in the State were subdued cannot, because of the election, go back to recruit killers just to match Wike and his violent nature of politics. That is not in his nature, and he will not do that. He is not a desperado.
"People can compare the so-called victory of Wike and his stooge in Rivers State, where people are mourning, with that of Abia State, where the people are celebrating and rejoicing over a victory that has given them liberty from the cage of Senator Orji Uzor-Kalu and his gang and understand how Wike is rated in the politics of Rivers State.
"I pray that one of these days, the people of Rivers State will join Abians and others to celebrate their freedom from the worst administration ever in the annals of politics and governance in Rivers State."