Full List Of 27 Ward Excos Suspended By APC For Suspending SGF Boss Mustapha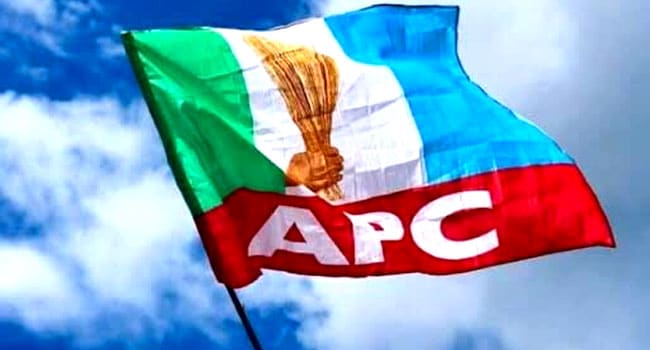 The list of the 27 ward executive members of the All Progressives Congress (APC) involved in the suspension of the Secretary to the Government of the Federation (SGF), Boss Mustapha has been revealed.
It would be recalled that the APC Gwadabwa Ward in Yola North Local Government Area of Adamawa State had in a letter dated March 22, 2023, suspended Boss Mustapha, for losing his polling unit at the presidential and governorship election.
Announcing the suspension at a press conference in Yola, chairman of Gwadabawa Ward disclosed that the SGF did not contribute to the victory of its presidential and governorship candidates.
The party said Mustapha was not committed to APC's victory at the presidential election, stating that the indefinite suspension followed complaints from his ward.
However, in a swift reaction, the State Working Committee of the party under the leadership of the acting Chairman, Samaila Tadawus, declared the announcement as "unconstitutional, null and void, and of no effect."
The Adamawa State APC SWC also directed the local government executive committee of Yola North to constitute a disciplinary committee to immediately investigate and recommend appropriate action.
Later on, the state working committee of the All Progressives Congress (APC) in Adamawa State suspended the Gwadabawa Ward executives of the party for 'Illegally' suspending the SGF.
The state APC Secretary, Dr. Raymond Chidama, in a press release had said, all the affected executive members were suspended indefinitely from the party.
He said: "The State Working Committee (SWC), therefore, viewed the activities of these miscreants, as an embarrassment to the National Chairman, the president and the entire party.
"All suspended members of Gwadabwa Ward, are hereby directed to hand over party property in their possession to the Chairman, Yola-North Local Council immediately."
Chidama also directed that a seven-member caretaker committee be constituted with immediate effect to take over the party affairs in the ward.
The list of the suspended party officials involved in the SGF saga has now been obtained. They are:
Muazu Wabiru – Chairman
Camilus Dadi – Vice Chairman
Nuhu Ajala Abdul – Secretary
Yusuf M. Idris – Asst. Secretary
Kabir Abba Jafida – Legal Adviser
Chrisantus Makumu – Asst. Legal Adviser
Daniel Udoh – Treasurer
Shuaibu Mohammed – Asst. Treasurer
Kabiru Adamu Santuno – Financial Secretary
Mairo Sale – Asst. Financial Secretary
Adamu Jibrin – Organizing Secretary
Hassan Tukur – Asst. Organizing Secretary
Maxwell Shadrack – Publicity Secretary
Umar Suleiman- Asst. Publicity Secretary
Zimba Bulus – Welfare Secretary
Umaru Abubakar Miode – Asst. Welfare Secretary
Rufa'i Garba – Auditor
Rabi Idris – Asst. Auditor
Patience Monidafe – Women Leader
Fadimatu Abdullahi – Asst. Women Leader
Absulmalik Jibrin – Youth Leader
Yusuf Ahmed Attah – Asst. Youth Leader
Ahmed Adamu – Physically Challenged
Bala Adamu – EX Officio (1)
Ramatu Yakubu – EX Officio (2)
Aliyu Bala Ibrahim – EX Officio (3)
Dirge Haruna – EX Officio (4)