Anyanwu Vows To Keep PDP Alive In Imo State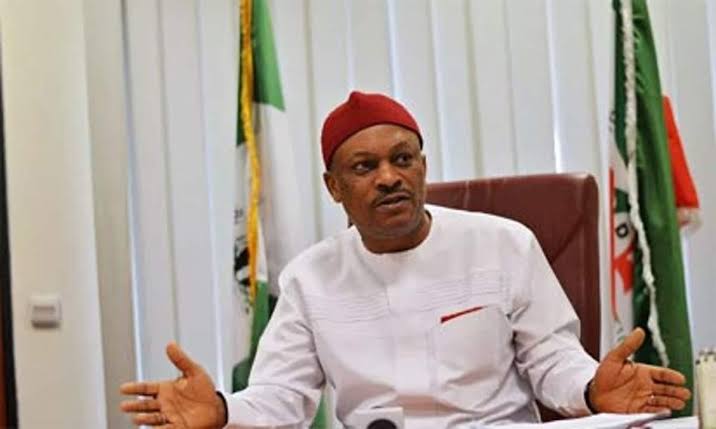 The People's Democratic Party's national secretary, Senator Samuel Anyanwu, has vowed to maintain the relevance of the party in Imo state.
On Monday, Anyanwu held a meeting with PDP local government area and ward chairmen from the three senatorial zones of Imo North, West, and East in Owerri, the state capital, to fashion out a way to restore peace in the party.
There have been reports that some members of the party were unhappy with in-house decisions taken in the party before and during the February 25 presidential and national assembly elections, and the March 18 state house of assembly election in the state.
Hence, there are speculations that some members of the PDP intend to move to another party ahead of the state's November governorship election.
To prevent that from happening, Anyanwu had to meet with the state's party stakeholders in an attempt to create harmony ahead of the election.
While addressing reporters after the meeting, Anyanwu urged the party's leaders to band together to oust the ruling All Progressives Congress (APC) from power in the state.
"As the National Secretary of our great Party, I will never allow PDP to die in Imo; I will liaise with other leaders to keep our Party alive. This is a fight that all of us should battle instead of thinking of leaving the Party", Anyanwu said.
He added, "We are all witnesses to the broad daylight political robbery against our Party at the elections and we are working seriously to reclaim our stolen mandates through the court.
"It is obvious that PDP did not lose any election, this is why I have directed our candidates to submit their petitions to selected Chambers to enable us to prosecute and revisit the issue to recover our mandates. Be that as it may, in my capacity as the National Secretary of PDP, I will assist our candidates to offset all the legal bills during the exercise.
"What we should concentrate on now is how our Party can be united to be able to confront the November 11, 2023, Governorship election. We should discourage division within the PDP; the only thing we can do is to reconcile with our brothers and sisters who are aggrieved."
"In my resolve to sue for peace, I want to appeal to everyone here to stop insulting our Party leaders and each other. This is the time for healing, we should forget everything that happened in the past and remain focused and steadfast towards reclaiming our state from insecurity and abject poverty."
Note that the 2023 Imo State gubernatorial election will take place on 11 November 2023 due to the belated inauguration of incumbent Governor Hope Uzodinma of the APC.