Full List Of Buildings Likely To Collapse, Lagos Govt Sends Urgent Message To Owners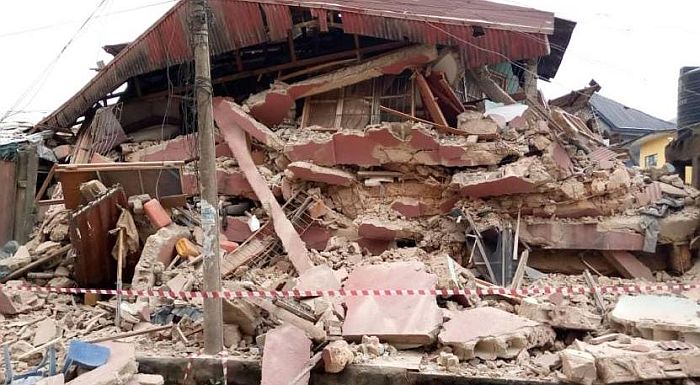 In the bid to curb incessant cases of building collapse, the Lagos State Building Control Agency (LASBCA) has identified and published a list of 349 buildings that were found to be exhibiting various signs of distress across the state.
Naija News reports that this was disclosed in a statement published on the state government's Twitter handle on Saturday, March 25, 2023.
According to the General Manager of the Agency, Gbolahan Oki, the suspected distressed structures were identified through a thorough monitoring exercise aimed at preventing collapse and its attendant effects such as loss of lives and properties.
Gbolahan stress that all the identified structures have signs which indicate they might not be fit for human habitation, some of those signs include cracks, spalling, bulging, exposed reinforcement, sinking, and tilting, hence the need to conduct Non-Destructive Test (NDT) on them to ascertain their structural stability.
He noted that though statutory notices were duly served on the owners/developers to carry out the much-needed NDT, however, the Agency is yet to receive responses from the owners or developers of the structures.
Speaking further, the LASBCA manager said the latest statement on its official website and social media pages is therefore a final notice given to the affected building owners to conduct the NDT and carry out the recommendations of the Test which may include re-engineering/renovation or removal as the case may be.
He maintained that in the case of removal, a Demolition Permit should be obtained from the Lagos State Physical Planning Permit Authority before removal while Renovation Permit should be obtained from the same Agency (LASPPPA) in the case of re-engineering or renovation.
Gbolahan also said that a timeframe of 90 days is given to all owners/developers to do the needful failing which LASBCA will remove the structures in the interest of public safety and in line with the regulatory provisions of the Law, adding that in the event that LASBCA removes the structures, cost of demolition will be borne by the owner/developer of the structures.