INEC Speaks On Attack On Mahmood Yakubu's Alleged Home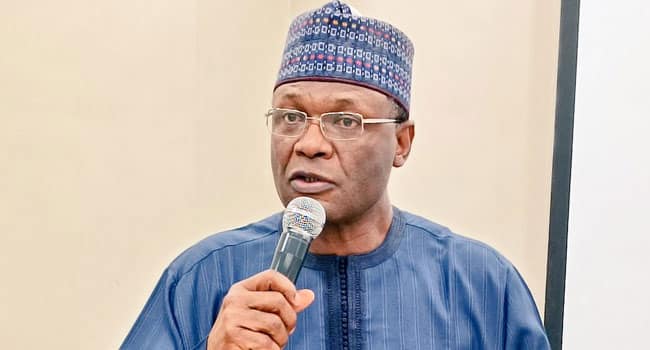 The Independent National Electoral Commission (INEC) on Saturday debunked the report that a property that was attacked in Bauchi State belongs to its chairman, Prof. Mahmood Yakubu.
INEC cleared the air in a statement signed by the Chief Press Secretary to the INEC Chairman, Rotimi Oyekanmi.
Oyekanmi noted that the INEC Chairman does not own any property and the rumours are part of a desperate smear campaign.
The statement read: "The property being purportedly attacked by some youths in a video clip circulating on the social media does not belong to the INEC Chairman, Prof. Mahmood Yakubu.
"The INEC Chairman does not own the property in question in either Bauchi or anywhere else around the world.
"This narrative is indeed the latest in the series of desperate smear campaign efforts by mischief makers. The public should disregard it."
Presidential Election: PDP Laments INEC's Cumbersome Process In Issuing CTC
INEC has come under fire from the Peoples Democratic Party (PDP) for allegedly giving instructions meant to thwart the process of issuing Certified True Copies (CTC) of the EC8A form.
Charles Aniagwu, the spokesperson for the PDP Presidential Campaign Committee made this claim at a news conference held in Asaba, Delta state on Friday.
Aniagwu claimed that before issuing the CTC for the EC8A form, the INEC headquarters had instructed the Resident Electoral Commissioners (REC) in the states and the FCT to ensure comparison with its Result Viewing Portal (IRev) data.