Election: Peter Obi Reacts As Naked Nasarawa Women Stage Protest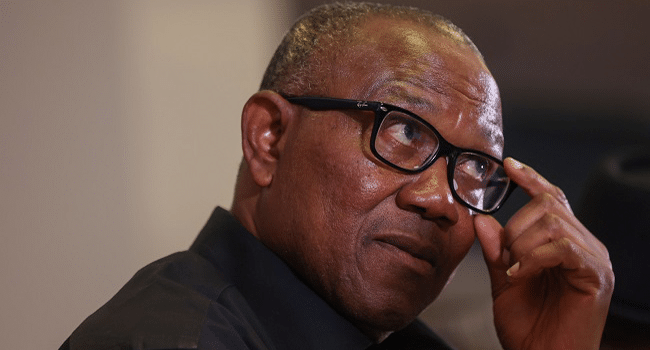 The Labour Party (LP) presidential candidate, Peter Obi, has reacted to viral videos shared online showing women protesting naked in Nasarawa State over the outcome of the March 18 governorship election.
Naija News reports that the Independent National Electoral Commission (INEC) declared Governor Abdullahi Sule, the candidate of the All Progressives Congress (APC), as the winner of the gubernatorial election, and the women took to the streets to express their displeasure.
The women frowned at INEC's declaration of Sule as the winner of the election when there was contention in the results that emanated from Gayam and Ciroma electoral wards in the state capital.
In the video, some of the women wore black while protesting as others stripped completely naked and bitterly expressed their displeasure.
Reacting to the development, Peter Obi via his Twitter page described the situation as heartbreaking, stating that women who should be respected and honoured have been degraded.
The former governor of Anambra state further reiterated his commitment to having 40% of women in his administration, adding that the country must ensure that the people's mandate is not stolen from them.
He said: "I just came across a sad, heartbreaking video where Nasarawa women staged a topless protest as a means of registering their displeasure with the election results.
"The purpose of election is for citizens to participate in democratic governance through the representatives they elect. A grievous injustice occurs when citizens are denied the opportunity to vote in a free, fair and credible process or their mandate is stolen from them.
"Our women who should be honoured and respected, and their rights protected, have been degraded and left to seek justice the only way they can trust by calling on their creator.
"I remain committed to 40% affirmative action for women in political appointments and will encourage the same in the corporate world. As a nation, we must do better and ensure that the mandate of the people is not stolen from them."