What Does He And Obi Mean For Nigeria? Fani Kayode Tackles Datti Ahmed Over Calls Against Tinubu's Swearing In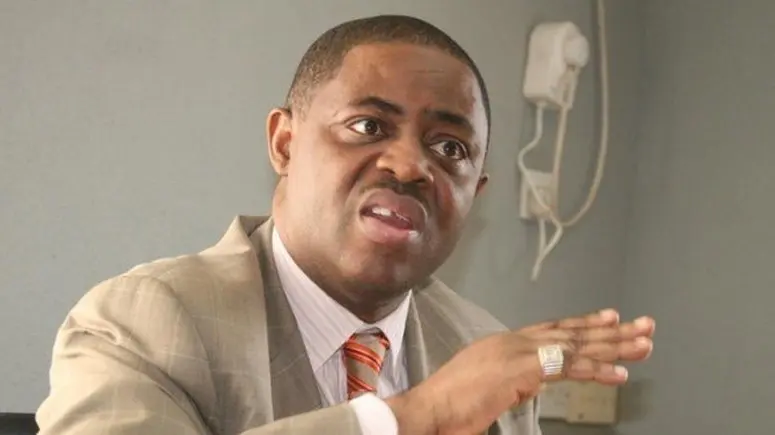 Former Minister of Aviation, Femi Fani-Kayode has queried the statement by the Labour Party (LP) vice presidential candidate, Yusuf Datti Baba-Ahmed calling for Asiwaju Bola Tinubu not to be sworn in as the next President of Nigeria.
Fani-Kayode in a lengthy statement via his Twitter handle on Thursday said the submission by Datti-Ahmed is equal to an invitation for a military takeover.
He also called on the Department of State Services (DSS) to invite the Labour Party vice presidential candidate for questioning.
Fani-Kayode made the outburst hours after, Yusuf Datti Baba Ahmed on Wednesday, declared that Nigeria has no president-elect.
According to him, while featuring on Channels, Asiwaju Bola Tinubu can't be seen as the President-elect because the certificate of return he holds is a dud certificate with no value.
According to Datti Ahmed, "We cannot have a president-elect when there has been a constitutional breach. There's a clear interpretation of section 134 and INEC's interpretation of section 134."
Reacting, the All Progressives Congress (APC) chieftain said Datti Ahmed can't be allowed to keep saying what he wants just because Peter Obi lost the presidential election.
He added that the Labour Party stalwart should desist from setting Nigeria on fire and channel his grievances to the court.
Fan-Kayode wrote: "What Dati Baba Ahmed said on Channels Television in his interview with Seun Okinbaloye last night represented a direct and unequivocal call for insurrection, rebellion and treason.
"Why would he call for people to reject the election and say that swearing-in Asiwaju, our President-elect, would be tantamount to inviting the military to take over the affairs of our country and get away with it?
"Why would he say he has no faith in the courts and warn the President and Chief Justice of the Federation not to get involved in the swearing-in otherwise it will be a violation of the constitution, a rape on democracy, an invitation to the military to take over and that it would put all our lives in danger?
"What does he mean by this and what does he want? Is there something he knows that we do not?
"What are he and Obi planning for our country?
"He also accused the President of being incompetent, the INEC Chairman of being arrogant and the President-elect of my being involved in organised crime.
"He compared the latter to Pablo Escobar and said that handing over Nigeria to him to lead would be like endorsing the mafia and handing the country over to murderous gangsters.
"Is this fair, right or proper? He is talking about a man who has just won a free and fair election.
"Are we supposed to all keep quiet whilst he incites the people against the entire system and seeks to pull down our democracy simply because he and his principal lost?
"Does he think we are scared of him and his co-conspirators and that we can be intimidated by his threats and childish outbursts?
"If he believes the elections were rigged or that INEC was compromised let him produce the evidence before a court of law and let that court decide.
"Surely he cannot be the accuser, jury and judge in his own case.
"He is not a court and he is not a judge.
"His interpretation of the constitution cannot be the only one or the final one.
"Such matters are the exclusive preserve of the courts.
"And neither can he threaten or attempt to intimidate the President of our country and the Chief Justice of the Federation or the Judiciary and get away with it.
"What he did on Channels Television last night was dangerous and despicable and he must be invited by the DSS too to explain himself.
"What is good for the goose is good for the gander. I appeared before the DSS and cleared myself just before the election.
"Why can't Dati do the same. Is he above the law? Who does he think he is?
"I share the concerns and totally concur with the assertions and opinion of my colleague and brother, Festus Keyamo SAN, the Hon. Min. Of State for Labour, who has called for the invitation, arrest, investigation and prosecution of Peter Obi and his dangerous and deluded running mate, Dati Baba Ahmed.
"If Nigeria burns we have nowhere to run to but he can always run to his native Mauritania. Maybe that is his plan.
"If so he can be rest assured that we will not let him escape or get away with it.
"We will use all lawful and constitutional means to stop him and we shall ensure that justice is done.
"He should stop playing Russian roulette with a loaded gun and desist from trying to set Nigeria on fire.
"We want peace but he must not mistake that desire for weakness."