Benue: Father Alia Spark Mixed Reactions With 'New Ride' Fitted With Governor-elect Plate Number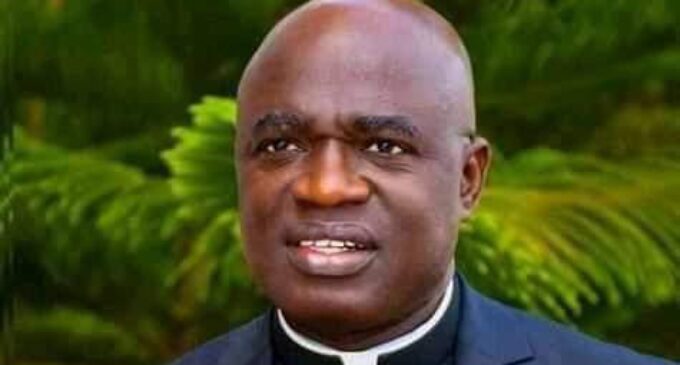 A photo showing an alleged official
armored car of the
All Progressives Congress (APC) governor-elect of Benue State, Reverend Father Hyacinth Alia has sparked reactions on social media.
Naija News reports that Rev Fr Hyacinth Alia, won Saturday's Benue governorship election after the Independent National Electoral Commission, INEC, Returning Officer, Prof Faruk Kuta declared the Catholic priest winner of the poll on Monday.
The APC candidate had polled 473,933 votes to defeat his closest rival, Titus Uba of the Peoples Democratic Party who scored 223,914 votes.
However, a trending photo showed a Lexus LX 570 fitted with 'Governor-elect Benue State' as the Plate number has garnered a lot of mixed reactions from Nigerians on social media.
Although, this platform cannot ascertain if the armored car is an official car of the Reverend Father.
Below is a photo and reactions.
e4emmanuel wrote: "E for wait small make them swear am in first nau… Na so this power dey hungry am so?? I'm a Catholic, but I'm yet to understand how a Rev Fr can contest and win a Guber poll."
victorokpalan wrote: "Is there an office called Governor elect? APC product will always be same."
lilysville wrote: "This one will soon renounce his priestly vows just like Fr. Moses Adasu; who was also a former governor of Benue State."
accessbuzzle wrote: "Lmooo APC Governor. Yeye dey smell."
enna__ameh wrote: "So he Decided not to celebrate masses again Because he wants to be Governor and drive Lexus jeep? God is messiful."
9jaconfidential wrote: "Canon law says "clerics are forbidden to assume public offices which entail a participation in the exercise of civil power" 
x.t_scents wrote: "Benue people never see anything. We told them to vote LP cos the candidate was the best amongst the others but Na father them wan chop."
mrmadox wrote: "He is no longer a Priest. The Church has "de-robed" him."
anyi_wealth1 wrote: "Congs Padre!! If I was asked to advice the Benue State Gov elect! I would say; padre! It's time to revenge or protect your land from any invading Cow and it's bearers with "arms"remember the souls that was massacred in the church Vicinities across Benue land! it's all in your hand sir! you can make history or decide to play politics with your people. Use your priestly mantle well sir!"
abujasextoyshop wrote: "Power is sweet, hope he doesn't get distracted."