2023: INEC Chairman Told To Suspend Ogun REC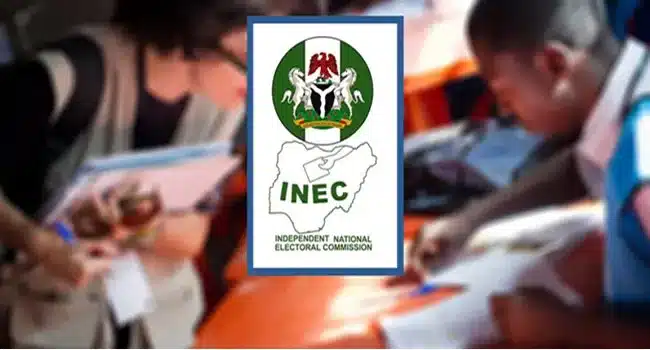 A group of Ogun indigenes under the aegis of the Ogun Assembly of Patriots International have on Thursday called for the suspension of the Resident Electoral Commissioner of the Independent National Electoral Commission (INEC) in Ogun State, Niyi Ijalaye
The group are making their demands on the premise that Ijalaye reportedly doctored and rigged the result of Saturday's governorship election in the state.
The group also accused the State Returning Officer, Prof Kayode Adebowale of impunity during the collation and announcement of results.
Naija News recalls that on Sunday, Adebowale, who is the Vice Chancellor of the University of Ibadan had announced Saturday's governorship
According to him, the candidate polled a total of 276,298 votes to defeat the opposition Peoples Democratic Party (PDP) which scored 262,383.
Speaking to newsmen on Thursday, the Secretary of API, Olasunkanmi Odukale, described the outcome of the election as tragic and disheartening.
Odukale accused the REC and some Local Government Electoral Officers of rigging and doctoring the results in favour of the APC candidate.
According to him, the election result was declared in total disregard to the margin of lead principle between the winner and his closest rival in the election.
He called on the INEC Chairman, Prof Yakubu Mahmood to put impunity in check and save the nation's democracy from annihilation.
The Secretary also called for a rerun in areas where elections were disrupted in the Saturday gubernatorial poll in accordance with the dictates of the law.
He said, "a rerun be held immediately in areas where elections were disrupted in the Saturday 18th Ogun State gubernatorial and state house of assembly elections, to uphold the rule of law.
"That the REC in Ogun be suspended immediately, and investigations instituted for offences ranging from colluding with others to suppress votes in Sagamu.
That the Electoral Officers in Ado-Odo/Ota, Ifo, Imeko/Afon, and Obafemi/Owode be suspended immediately and an investigation instituted to determine the extent of their involvement in election results doctoring and rigging."
The group said it believes that "it is only when these issues are addressed accordingly that justice and respect for the rule of law would have been seen to have to have been strictly adhered to."