Reactions As Tinubu Allegedly Travels To Europe For Medical Attention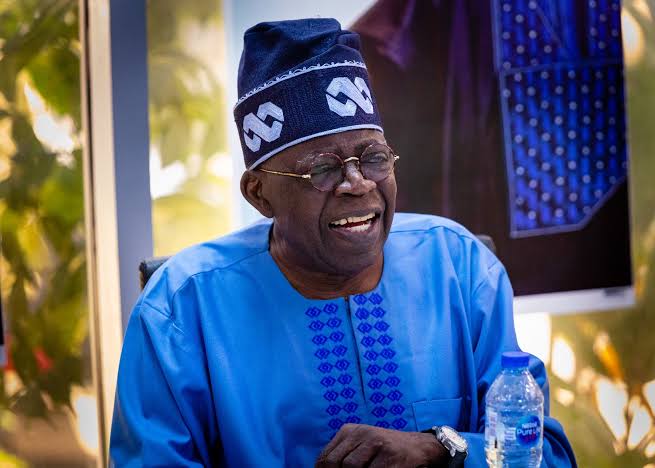 Mixed reactions have trailed the reports that Nigeria's president-elect, Bola Tinubu has reportedly travelled out to Europe for medical attention after falling ill.
According to a report shared on Wednesday by Sahara Reporters, Tinubu departed Nigeria for Europe on Tuesday night after falling ill on Saturday.
It was said the former Lagos State Governor started receiving treatment in Nigeria but decided to travel to Europe for better medical care.
Quoting an authoritative source, the platform claimed Tinubu fell ill after the "hectic" electioneering that led to his emergence as the 'President-elect' and the tension that built up ahead of the March 18 Lagos State governorship and House of Assembly elections where he also voted.
Following the development, some Nigerians have taken to the micro-blogging platform, Twitter to react to the report that Tinubu has left the country to attend to his health after emerging as the president-elect.
See some of the mixed reactions below.
@oluomoofderby wrote: "No president in our history travelled abroad for medical healthcare more than President Buhari.
"I expect Tinubu to break that record, if he becomes the President.Why is he travelling abroad for medical treatmen. What happened to all the hospitals in Lagos state?"
@brigitomo wrote: "African leaders should stay in African for medical treatment. They should use the services they put in place. Their lives are not worth more than any other African's life. The West really needs to stop promoting medical tourism and exploiting African wealth."
@Afolabiyetty wrote: "Anyone can fall sick, let's not try to cause unnecessary alarm for Nigerians. Do y'all think political campaigns is an easy task, even a strong healthy 25-40yrs will need rest and medical attention after a lengthy political campaigns. Let's support BAT with our prayers.
IRE O!"
@blackveron wrote: "Ofcourse he e go Europe for medical check ups which shows Nigeria medical practice is not trusted or even no good medical facilities in the country and this are part of the people leading Us in Nigeria."
@cbn_governorAkin1 wrote: "Liar. Person no fit go on vacation again? Werey people. When Obi traveled una no shout. When Atiku travelled una no cry. Ok now. Tinubu is the main point."
@politcalriter wrote: "If this is true, he'll be back stronger for the task ahead. Nigeria will experience unprecedented prosperity under President Bola Tinubu."
@stainless231 wrote: "Here you go !!!!!
I hope you can afford to travel out for medical care when you need since your Yoruba brother/father can do same. I hope you have everything to live as human."
@buffdandy wrote: "This man is not sick. He's travelling to explore diplomatic ties see if he can influence the case filed against him. Interesting times ahead."
@erhuwvu wrote: "He built Lagos as his followers claimed , so why didn't he get treatment from one of the hospitals he built in Lagos ??"
@viido_ wrorey: "Why can't he do medial check up in the Lagos he built?? Are there no standard facilities in the state that generates the highest IGR???"
@blinddogs1 wrote: "He has started his medical journey!!! Obi must collect his certificate of return from this man!!!"
@Dasimpsonjnr wrote: "What if he has headed to Europe to get his defensive play card from UK, UK are very tricky, remember their prime minister already congratulated him, what if he his going to bargain with them on what they stand to benefit."