Goods Destroyed As Fire Razes Onistha Main Market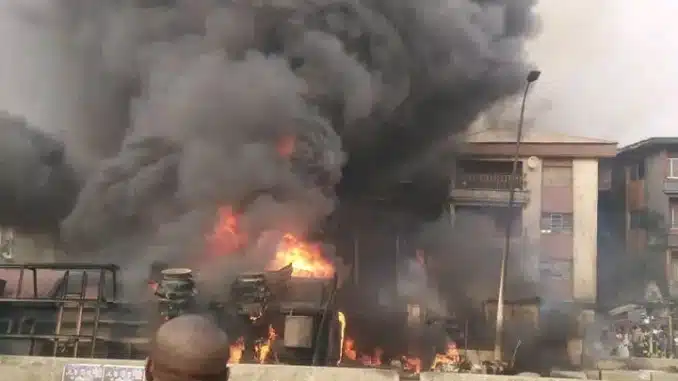 An unquantified number of goods were reportedly destroyed on Tuesday when fire gutted some parts of the Onitsha Main Market in Anambra State.
Reports obtained by Naija News revealed that the inferno happened at a section of the market known as "Gbongboro," where lace and other materials are being sold.
The cause of the fire is yet to be confirmed, but reports said the fire affected the building housing the police block, Onitsha North Local Government office, warehouses and shops.
Goods worth millions of naira were reportedly burnt down before firefighters could arrive at the scene.
"The fire started at the White House where they sell lace materials. The place was supposed to be a motor park and an emergency exit, but the people blocked it with illegal structures through the approval of some government agencies," an eyewitness told Daily Trust.
The State Police Command spokesman, DSP Tochukwu Ikenga, confirmed the incident but told reporters that details of the incident were still sketchy at the time.
He, however, noted that the situation was being monitored, and that firefighters operatives and police were there.
Meanwhile, the state fire service has not released any official statement on the incident as of reporting time.