First Female Elected Governor: Mixed Reactions As Notable Nigerians Wish Binani Wins In Adamawa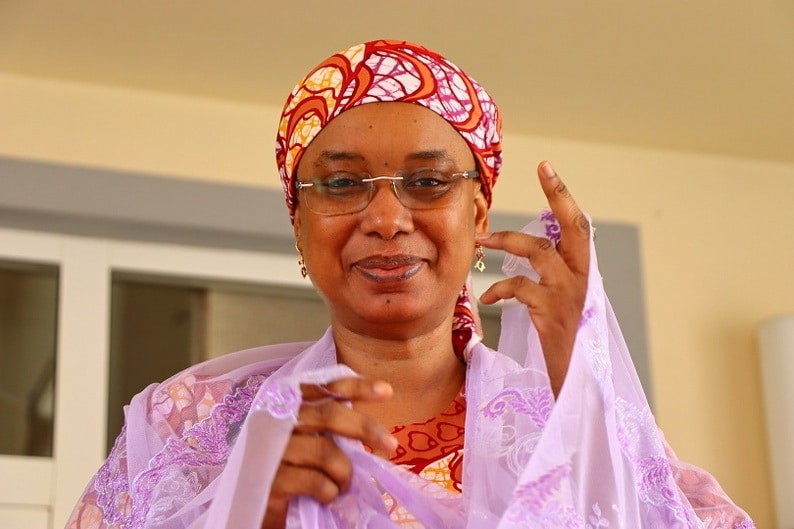 There are mixed reactions on and off social media over the fierce contest between the All Progressives Congress (APC) candidate, Aishatu Dahiru Binani and the Peoples Democratic Party (PDP) candidate, Governor Ahmadu Fintiri, in Adamawa State.
On Monday, the Independent National Electoral Commission (INEC) declared the 2023 governorship election in Adamawa State inconclusive due to the margin of the votes.
Results announced before the declaration showed that Fintiri was leading Binani with 35,617 votes after INEC collated the outcome of polls from 20 out of the 21 local government areas of the state without Fufre LGA.
Of the 20 LGA declared at the time, PDP won in 13, polling 401,115 votes, while APC won in seven with 365,498 votes.
However, the Fufore local government results announced on Monday showed that Fintiri maintained his lead in the governorship election.
First Female Elected Governor
Despite results showing APC's Binani behind Fintiri, some Nigerians still hope that the female candidate emerges at least to make history as the First Female Elected Governor in Nigeria.
Naija News understands that the first woman to have served as Governor was Dame Virginia Ngozi Etiaba.
Etiaba was not elected, though. She was instated to serve as Governor of Anambra State, in South-Eastern Nigeria, from November 2006 to February 2007 when the previous governor, Peter Obi, was impeached by the state legislature for alleged gross misconduct.
In the case of Binani, Naija News observed that some Nigerians had dropped their political difference, wishing that she emerges in Adamawa to break the jinx for women.
Mixed Reactions
Reacting to the governorship election results in Adamawa at the short time Binani was leading with votes, popular Nigerian television host, Morayo Afolabi Brown, took to her Instagram page to express how proud she is to witness a woman elected as Governor of a state in Nigeria.
She wrote: "Now, this is an inauguration I must attend and witness. First female Governor??? Congratulations are in order. This is a proud moment for me as a woman. Perfect Mother's Day gift to us. Pls, how do I book tickets to Adamawa? Do I need connecting flights?
Nigerian On-Air-Personality, Ifedayo Olarinde, popularly known as Daddy Freeze also has, ahead of INEC final verdict, hailed Binani as the winner of the election. "First female governor EVER emerged in Nigeria… On Mother's Day! A true landmark," he wrote on Instagram.
The Director of Media and Communication for the Tinubu-Shettima Presidential Campaign Council, Bayo Onanuga, has also gone ahead to congratulate Binani, saying she has opened a new frontier for all Nigerian women.
"Congrats Aisha Binani for being Nigeria's first elected female state governor. We all love you for opening new frontier for all Nigerian women," Onanuga wrote on Twitter.
Popular activist, Comrade Deji Adeyanju, is unsure of victory for Binani but still hopes that he wins despite his affiliation with PDP.
"It appears our first female governor dream may not happen in Adamawa but I am still optimistic," Adeyanju wrote on Twitter.
Earlier, the activist said this: "APC can never surprise me again. They wanted to use rigging to bring in first female governor and came to social media to set the agenda. Una no dey try at all for that progressive party."
Former presidential aspirant and chieftain of the APC, Adamu Garba, was confident that victory is for Binani in Adamawa. The politician wrote on Twitter: "Ladies and Gentlemen here is to welcome you to Adamawa State, where the Youth and Women came in partnership to produce the First Ever Female Elected Governor, Aishatu Dahiru Ahmed Binani. Can you celebrate this success with us?"
A popular Nigerian commentator on Nigerian and international affairs, Kayode Ogundamisi, has also congratulated Binani ahead of a final declaration by the electoral commission.
"Her Excellency Hajia Binani, First Female elected Governor of a Nigerian State," Ogundamisi wrote on the microblogging platform hours after writing this: "Omo, if the reports regarding Binani in Adamawa are confirmed, that is going to be one huge breaking of the glass ceiling for Women in Nigeria & from the most unusual of places. Those considered by the 'usual suspects' as 'Backward'. That will be the highlight of the Nigerian election."
Meanwhile, the Minister of State for Labour and Employment, Festus Keyamo, has alleged that there are plans to rig the Adamawa State governorship election in favour of the incumbent Governor, Fintiri.
He tweeted: "What's happening in Adamawa to Sen. Binani is UNACCEPTABLE. Reports are that officials of INEC are under pressure by Gov. Fintiri to change the result of Fufore LGA to reduce her clear lead in the Gov. race. This is the 1st woman to come this far! INEC MUST HALT THIS NOW."
On the other hand, a popular Nigerian disc jockey who is known as a strong critic of the Nigerian government, DJ Switch, has expressed delight with Binani's height against Fintiri in Adamawa gubernatorial race.
"In other news… this is a very welcome development! A female governor! About damn time… Adamawa, I am wishing you guys the best. This is very progressive," the entertainer wrote on her Twitter page.
Amid congratulatory messages pouring in for Binani before INEC's declaration, former presidential aide and stunt supporter of the PDP, Reno Omokri, is optimistic that Governor Fintiri won his re-election bid.
Recall that PDP presidential candidate in the just concluded election, Atiku Abubakar, hailed from Adamawa and Omokri is a strong supporter of the former vice president.
Taking to his verified Twitter page on Monday, Omokri wrote: "The result in Adamawa has made today my happiest day in a long time. Congratulations Governor Umaru Fintiri.
"You ran against overwhelming federal might, and you won. A very sweet, hard won, and well deserved victory. My home state and my leader's home state remain in the safe hands of PDP."