What A Disgrace, Lunacy, Sham Perpetrated By Demented Souls – Bode George Fires After Lagos Election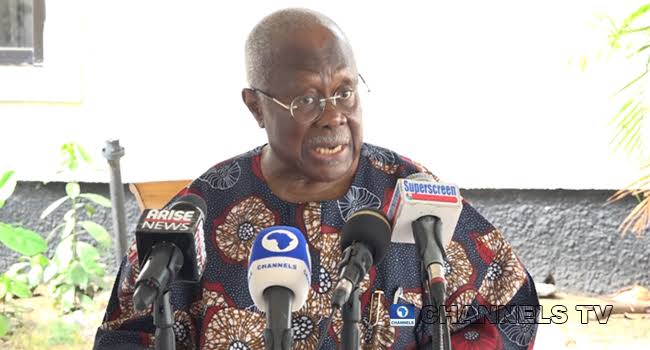 A former Deputy National Chairman of the Peoples Democratic Party (PDP), Bode George, described the just-concluded governorship election in Lagos State as a sham and a disgrace to democracy.
Naija News reports that the Independent National Electoral Commission (INEC) has declared Babajide Sanwo-Olu as the election winner, marred by intimidation, voter suppression, and violence.
In a statement to journalists, George faulted the conduct of the polls, saying it is a disgrace to Nigeria as a country.
According to the elder statesman, forefathers who founded Lagos, the Aworis, and others, will be angry in their graves at those who turned everything upside down.
He said: "As a Lagosian, I feel so shattered, so heartbroken that our democracy is now in shambles. What a disgrace. I am close to 80 years now, but never in my life have I seen such a despicable and dishonourable way of not allowing people express their right to elect whoever they want. This election, in some places, was completely shambolic. What is going on?
"It is disheartening that Lagos State, the bastion of civility, humility, decorum, harmony, and respect for the rule of law, was, on Saturday, turned to a den of lunatics during the Governorship and House of Assembly elections.
"This is no longer a democracy. What happened on Saturday, March 18, in Lagos State was utter lunacy, a complete sham perpetrated by demented souls. Our forefathers who founded Lagos, the Aworis, and others, will be angry in their graves at those power-hungry fellows who turned everything upside down in their quest to retain power at all costs.
"This is not the Lagos we used to be proud of. This election is a total disgrace to APC as a party and Nigeria as a country.
"Due to threats from thugs, many potential voters returned home in anger without voting.
"In many polling units, we watched videos of snatching of ballot boxes/papers by APC thugs. Ballot boxes and papers were also burnt.
"Thugs were seen with dangerous weapons invading polling units, threatening voters to either vote for APC or leave.
"Some voters were macheted and shot."