Oyo Assembly Election: PDP Wins 28 Seats, APC 4 (Full List)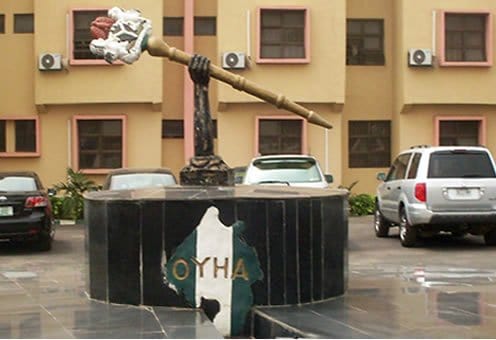 The Oyo State chapter of the Peoples Democratic Party (PDP) has won twenty-eight seats in the state House of Assembly election held on Saturday.
The All Progressives Congress (APC) in the state won four seats in the house.
The Independent National Electoral Commission (INEC) announced that the 10th assembly in the state will be formed by two political parties.
The Oyo State House of Assembly will be made up of thirty males and two females.
The full list of the elected house of assembly members in the state comprised of:
PDP Members-elect:
Hon Yusuf Adebisi – Ibadan South West I – (Returning member)
Rt Hon Adebo Edward Ogundoyin– Ibarapa East – (Returning member)
Hon Adebayo Babajide Gabriel – Ibadan North II – (Returning member)
Hon Kehinde Olatunde Taofik – Akinyele II – (Returning member)
Hon Onaolapo Sanjo Adedoyin – Ogbomoso South – (Returning member).
Hon Olajide Akintunde Emmanuel – Lagelu – (Returning member)
Akande Opeyemi Modiu – Ibadan South East 1 – (New member)
Ogunsola Anthony Oladejo – Iwajowa – (New member)
Hon Bamidele Adeola – Iseyin/Itesiwaju – (Returning member)
Bisi Oluranti Oyewo-micheal – Ogbomoso North State Constituency – ( New member)
Olayinka Ayobami Omikunle – Ibadan South East II – (New member)
Hon Olusola Adewale Owolabi – Ibadan North East II – (Returning member)
Babalola Abiodun Oluwaseun – Ibadan North East 1 – (New member)
Hon Abiodun Aderemi Fadeyi – Ona Ara – (Returning member)
Hon Olasunkanmi Samson Babalola – Egbeda – (Returning member)
Hon Peter Gbadegesin Ojedokun – Ibarapa North/Central – (Retuning member)
Hon Saminu Riliwan Gbadamosi – Saki East Atisbo (Returning member)
Lekan Abiola – Akinyele I – (New member)
Dauda Olalere – Ibadan North West – (New member)
Comforter Olajide – Ibadan North I – (New member)
Hon Mabaje Razak – Ido – (Returning member)
Hon Oluwafemi Fowokanmi – Ibadan South West II – (Returning member)
Waheed Akintayo – Oluyole – (New member)
Oladeji Oparinde – Afijio – (New member)
Olorunpoto Rahman – Oyo East/Oyo West – (New member)
Ogundele Johnson Akintola – Oriire – (New member)
Abideen Adéòye – Ogo-Oluwa /Surulere – (New member)
Hon Gbenga Oyekola – Atiba – (Returning member)
APC Members-elect:
Ibraheem Shittu – Saki West – (New member)
Abdulazeez Musbau – Kajola – (New member)
Jimoh Lukman – Oorelope – (New member)
Ayinde Waliu – Irepo/Olorunsogo – (New member)