Enugu Guber: PDP Mount Pressure On INEC To Declare Peter Mbah Winner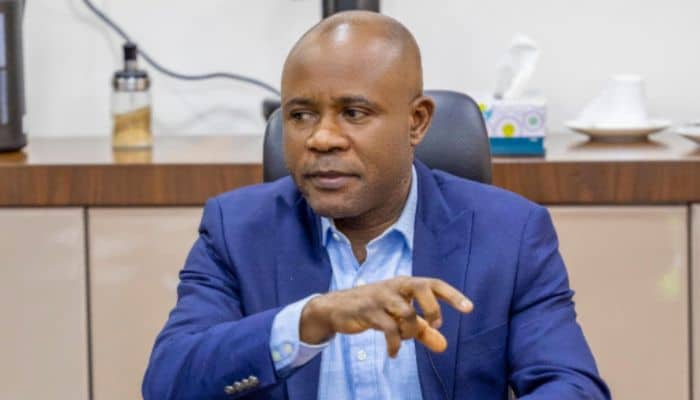 The Enugu State Peoples Democratic Party (PDP) Campaign Council has demanded the immediate declaration of its gubernatorial candidate, Peter Mbah, as the winner of the March 18 governorship election in the state.
Naija News reports that the PDP Campaign Council spokesman, Nana Ogbodo, said the party will not allow the Labour Party (LP) candidate, Chijioke Edeoga, to derail Enugu democratic progress against what it termed a do-or-die politics.
The returning officer for Nkanu East LGA had earlier on Sunday announced that the PDP gubernatorial candidate polled 30,350 votes in his native LGA, Nkanu East, while his LP counterpart polled 1,855 votes to place second.
However, the LP, while not contesting the total of 30, 294 recorded in Nsukka LGA, called on the state returning officer to cancel that of Nkanu East.
However, PDP frowned at the LP's request of wanting INEC to cancel the results of places where Edeoga lost elections.
The PDP Campaign Council, therefore, warned the Labour Party to stop overheating the polity and accept defeat, hence calling on the Independent National Electoral Commission to declare Mbah the winner of the election.
It said: "We call on INEC to immediately declare Dr. Ndubuisi Mbah as the governor-elect for Enugu State, having fulfilled all the requirements of the constitution and the Electoral Act 2022.
"We insist that the LP cannot be allowed to derail Enugu's democratic progress with its do-or-die politics as avowed by its senator-elect, Chief Okey Ezea in a widely circulated video ahead of the governorship election.
"LP candidate won the gubernatorial election in Udenu, the local government of the incumbent governor, Hon. Ifeanyi Ugwuanyi, who is of PDP extraction and we did not complain.
"The LP also won the Enugu North senatorial seat in the 25th February election against a sitting governor of the PDP extraction, we did not reject their victory.
"Edeoga equally claimed to have garnered 12,518 votes in Isi-Uzo LGA where about half of the registered voters hail from Eha-Amufu and where thousands of people were recently displaced as a result of herdsmen attacks and related security crisis are just beginning to return home in trickles. But complaints from Isi-Uzo, especially Eha-Amufu showed that Edeoga militarised the election.
"We find it hypocritical on the part of the LP to accept its victory, including the votes it garnered from Nkanu East LGA to emerge the winner in the Enugu East senatorial election held on the same day as the governorship election, but only to reject the result of the governorship election because the PDP candidate expectedly garnered the most votes in his native LGA and stronghold.
"The INEC is not a Governorship Election Petition Tribunal, hence the LP is advised to stop dragging the election management body and its returning officer beyond their mandate. They should rather approach the Election Petition Tribunal if it feels aggrieved for any reason in the outcome of the governorship election"