Tinubu Will Turn Nigeria Into Hitler's Nazi State – Atiku Condemns Attacks On Igbo, Fires Onanuga, Fani-Kayode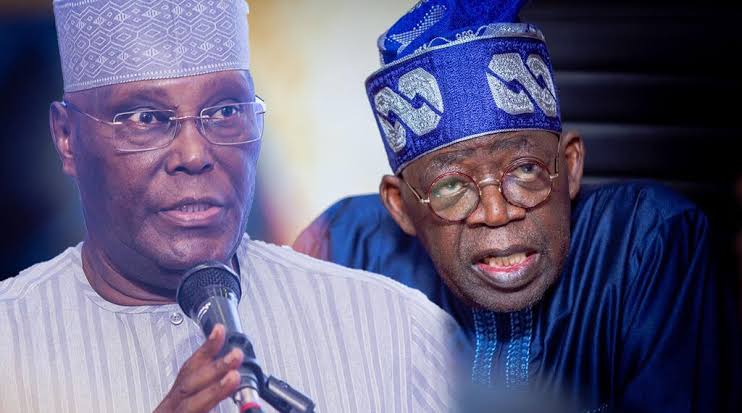 The Presidential candidate of Peoples Democratic Party (PDP), Atiku Abubakar, has stated that Nigeria under a Bola Tinubu Presidency will be reminiscent of Germany under Adolph Hitler's where Jews were targeted and rights to vote and speak were suppressed.
Atiku's Special Assistant on Public Communication, Phrank Shaibu, said in a statement that the governorship election in Lagos where thugs asked those who were not planning to vote for the APC to return home was just a tip of what to expect under a Tinubu administration.
He added that it was even more disheartening that the thugs working for Tinubu were profiling voters and beating up those who were of Igbo extraction and asking them to return home
Shaibu said Tinubu's ultimate plan was to turn Nigeria into a one party dictatorship based on the autocratic and totalitarian ideology of Nazism like Adolf Hitler did in Nazi Germany in the 1930s
Atiku's aide stated, "What the world witnessed in Lagos at the March 18 governorship election was nothing short of Nazism. It was the tactic employed by Adolph Hitler in the 1930s. At that time, they engaged in profiling and used the Jews as their punching bag. Today, Tinubu has launched an assault on the Igbo and all non-Yoruba speakers in Lagos.
"Tinubu has adopted fascism with disdain for liberal democracy. With what happened in Lagos, Tinubu has elevated dictatorship, scientific racism, and Yoruba tribal supremacy and wants to take it to the federal level.
"When they see that they cannot win an election, they resort to profiling and whip up tribal sentiments and violence. They did it against Jimi Agbaje in 2015 as well.
"Tinubu has ruled Lagos for 23 years. Under his watch, the APC wins all local government elections. When it is time for governorship and State Assembly elections, he unleashes his thugs who also target non-Yoruba ethnic groups as you saw in Lagos on Saturday.
"Those that resisted the thugs were beaten. This is how he has maintained a grip on the state and has turned it into a one-party state. It is what Tinubu plans to bring to the centre: a Nazi style of leadership that will make Nigerians view the past military dictatorship of Sani Abacha with nostalgia. May God save us!"
Fani-Kayode/Onanuga
Atiku's aide lambasted the spokesmen for Tinubu's Campaign Council – Bayo Onanuga and Femi Fani-Kayode – for encouraging the intimidation of Igbo people in Lagos.
He said their statements were a reflection of their principal who, two days after the elections, had failed to condemn the violence.
Shaibu stated that the Nigerian constitution permits anyone in every part of the country to vote and be voted for regardless of religion, gender and tribe.
He said what Tinubu had done was to return and reverse some of the democratic gains that Nigeria had made.
Shaibu added, "Bayo Onanuga, a hitherto respected journalist who claimed to have contributed to the fight against dictatorship, is now supporting injustice and attacks on the Igbo for daring to vote in Lagos. This is what happens when you associate yourself with Bola Tinubu. Your mind and soul get corrupted.
"For Fani-Kayode, a man who was Nnamdi Kanu's handbag, he has suddenly become an ethnic supremacist, encouraging the suppression of the Igbo people in Lagos all in a bid to impress his paymaster. We never expected much from this Jekyll and Hyde.
"What the tribal bigots like Bayo Onanuga and Fani-Kayode will not tell you is that Ireti Kingibe, a Yoruba woman, has just been elected into the Senate to represent the FCT."