#OyoDecides2023: Makinde Reacts To Victory, Makes Fresh Pledges To His State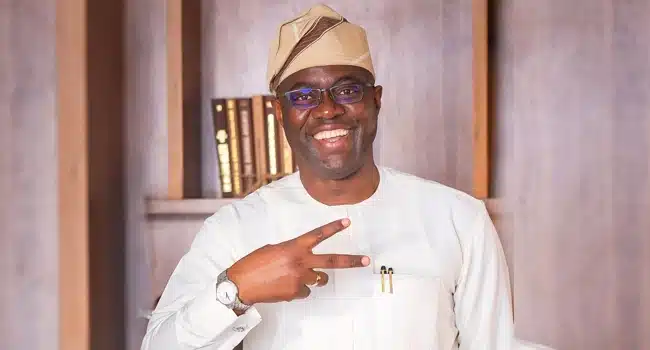 The Oyo State Governor, Seyi Makinde, has come out to react to his victory after he was declared the winner of the state governorship election.
Naija News earlier reported that the Independent National Electoral Commission (INEC) announced Makinde as the winner of the Oyo governorship election.
Makinde polled a total of 563,617 votes to defeat his closest rival, Teslim Folarin of the All Progressives Congress (APC), who scored 251,230.
While Adebayo Adelabu of the Accord Party polled 38,757 to come a distant third.
The PDP governorship candidate won in thirty-one local governments out of the thirty-three local governments in the state to defeat 15 other candidates.
The candidate of the APC, Folarin won the remaining two local governments in the state, and Adebayo Adelabu of the Accord Party (AP) won none.
In his reaction to his victory, the governor pledged to work harder in the interest of the people of the state during his second term even more than his current tenure.
Makinde who appreciated the people for supporting his second term bid promised that his second term would be "a lot better, sweeter, and more effective when compared to his first term."
While addressing pressmen after he was declared winner, Makinde said "Right now, I am just overwhelmed. I want to thank the good people of Oyo State for the confidence they have reposed in this administration and my ability to lead them.
"I also want to say thank you to all my friends and colleagues throughout the country who did one thing or the other for us to support this administration.
"For me, I think the reward for hard work is more work. So, for this second tenure, we will work harder for the people of Oyo State than we did in the first tenure.
"As I said on the campaign trail, Omituntun 2.0 is a film that will be a lot better, sweeter, and more effective when compared to Omiuntun 1.0.
"So, I want to say thank you to my leaders, elders, our supporters, who have done well. This victory is dedicated to God and the good people of Oyo State."