APC's Alia Leads Benue Guber Election With Eight LGAs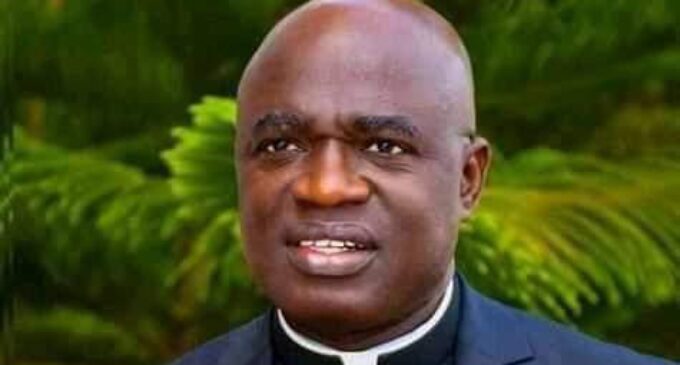 The All Progressives Congress (APC) candidate, Reverend Father Hyacinth Alia, is leading the governorship election in Benue State conducted on Saturday.
The results from 11 out of 23 local government areas announced by the Independent National Electoral Commission (INEC) so far show that the APC is leading with eight LGAs while the PDP has won in three LGAs.
INEC State Collation Officer, Prof. Farouk Musa, of the Federal University of Technology, Minna, made this known at the state collation center in Markurdi, the state capital.
Musa also announced a break and that collation would resume at 5pm today (Sunday).
See the results announced so far below:
1. Apa LGA:
Total registered voters – 66,720
Accredited voters – 17,435
APC – 7,925
LP – 465
PDP – 7806
NNPP – 12
Total valid votes – 16,520
Rejected votes – 485
Total votes cast – 17,005
2. Gwer West LGA:
Total registered voters – 74,563
Accredited voters – 26,333
APC – 10,947
LP – 1,509
NNPP – 8
PDP – 13, 609
Total valid votes – 26,155
Rejected votes – 175
Total votes cast – 26,330
3. Logo LGA:
Total registered voters – 114,100
Accredited voters – 33,114
APC – 15,574
LP – 296
NNPP – 11
PDP – 16,385
Total valid votes – 32,582
Rejected votes – 509
Total votes cast – 33,091
4. Ado LGA:
Total registered voters – 83,199
Accredited voters – 14, 811
APC – 8,662
LP – 308
NNPP- 58
PDP – 4,379
Total valid votes – 14,355
Rejected votes – 448
Total votes cast – 14,803
5. Gwer East LGA:
Total registered voters – 99,851
Accredited voters – 34,111
APC – 20,083
LP – 1,272
NNPP -12
PDP – 12,085
Total valid votes – 33,601
Rejected votes – 283
Total votes cast – 33,924
6. Agatu LGA:
Total registered voters – 64,315
Accredited voters – 18,407
APC – 7,482
LP – 216
NNPP -11
PDP – 9,934
Total valid votes – 17,943
Rejected votes – 464
Total votes cast – 18,407
7. Obi LGA:
Total registered voters – 69,126
Accredited voters – 17,759
APC – 9,897
LP – 1,185
NNPP -39
PDP – 6,267
Total valid votes – 17,519
Rejected votes – 240
Total votes cast – 17,759
8. Ukum LGA:
Total registered voters – 142,119
Accredited voters – 39,425
APC – 28,503
LP – 439
NNPP -4
PDP – 9,418
Total valid votes – 38,640
Rejected votes – 785
Total votes cast – 39,425
9. Tarka LGA:
Total registered voters – 55,464
Accredited voters – 20, 939
APC – 16,422
LP – 175
NNPP – 7
PDP – 3,748
Total valid votes – 20,632
Rejected votes – 299
Total votes cast – 20,931
10. Buruku LGA:
Total registered voters – 129, 696
Accredited voters – 46,418
APC – 34,713
LP – 1155
NNPP -69
PDP – 9,513
Total valid votes – 45,937
Rejected votes – 470
Total votes cast – 46,407
11. Kastina-Ala LGA:
Total registered voters – 168,318
Accredited voters – 42,189
APC – 34,347
LP – 178
NNPP -8
PDP – 6716
Total valid votes – 41,669
Rejected votes – 520
Total votes cast – 42,189