Kano Alhaji Allegedly Marries 11-Year-Old Girl – See How Nigerians React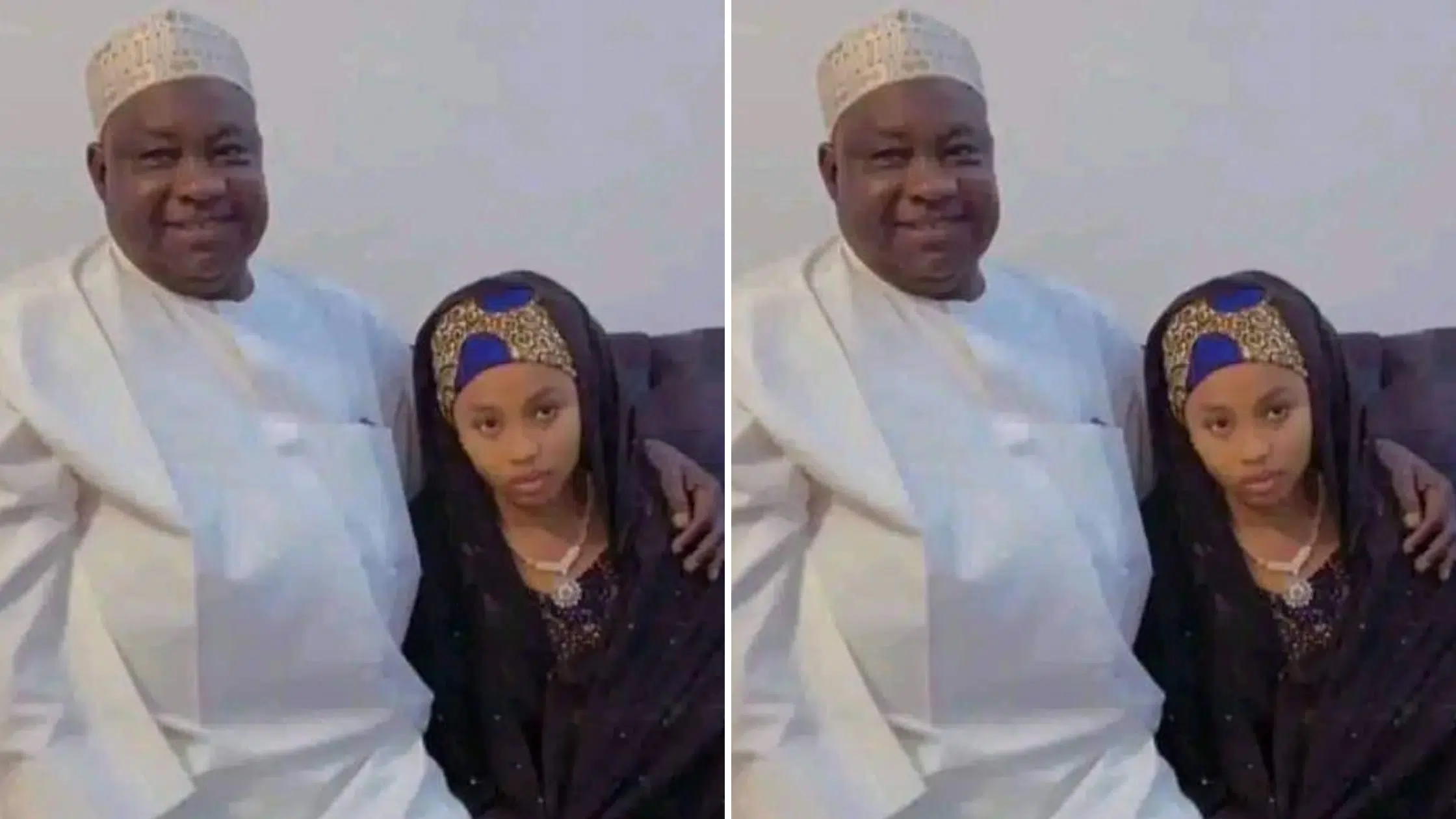 Reactions have trailed a viral video on social media showing a Kano State man, simply identified as Alhaji, welcoming his new bride, who is alleged to be 11 years of age.
While defending his actions in the video seen online by Naija News correspondent, the elderly man, suspected to be in his 70s, said their marriage was born out of love and mutual consent.
"She is my choice, I married her because we love each other," Alhaji stated. People suspected to be family members were heard in the background whistling as they hail the couple.
Naija News reports that the development has generated a barrage of reactions on social media as many netizens expressed their disappointment with the act.
Reacting, however, to critics of the man's action considering the quoted age of the bride, one Kawu Garba noted on his timeline in response to a tweet, that the girl married to the Alhaji is a 200L undergraduate student of a State University.
According to him, the girl was initially married to someone but she was unhappy with the relationship and filed for a divorce in the court.
"First, she's an adult, a 200L undergraduate at a state university. Second, she was married initially to someone but said she wasn't doing it and went as far as a court to file for divorce. She loved him and asked him to marry her. Kuma Allah ya halatta masa," Garba wrote on Twitter.
See other reactions below:
@abiola_beeholz – "A grandchild? I thought some organizations are working on these acts?
Too bad this isnt looking like it will end soon cos our leaders are in same boat with these pedophiles.
@kitchen_oracle – "If he was a poor man you will see some of our female celebrities online ranting about this, but when a man is rich women smile and praise his ad decisions.
@Nonsoeze431 – "Una never even see anytin , shey we don't enter Muslim Muslim Era , so many of them have been looking for way to do dis , they now have a back up , more to come , but make dem no try am reach the East shaa.
@ibowhyte – "The funny thing is that this man will never allow his own daughter to marry this early. You will see him protecting his daughter like anything. Wicked world.
@Monnyx4 – "70% of northern muslims men are paedophile? These is what they enjoy doing, the girls parent should be arrested what sort of nonsense is these ehnn? I don't know the joy they derived in getting married to a child. Thank God am not a Northern Religion of immorality & Vengeance."
@ladycamille7 – "Her parents are wicked, everyone around celebrating this nonsense is wicked, the man is a pedophile and he needs to be castrated, this is pure evil.. you can tell she's so uneasy.
@Ozoadaz – "To dance and drink some alcohol is haram, but pedophilia, stealing of public funds, rigging elections and telling lies are not haram? Make una de deceive una sef.
@Yaaboy6 – In the north we don't fornicate like you do
In the north we don't womanize like you do
In the north we don't rape underage like you do
Bcos our women don't use to dress seductively
Our mothers were married at 14 to 15 but they enjoyed it the most bcos we become friends to them.
@SabriSenan – "This is not new because it has been there ages as long as Islam and those practicing it are concerned. Even Mohammed married a 9 years old girl. Their religion, their doctrine, their choice.
@Oserume1 – "The irony about this, is that man has his female children in universities, he didn't marry them off at age 11 years, e no concern us sha.
@its_alpacino – "A Pedophile hiding under the umbrella of religion. If you asked the northern brothers they will tell you religion allows it, they spend millions to go to Mecca but they refuse to follow what other Muslims in the world are doing. The evil that men do will always live with them."