Election Funds: APC Vice Chairman Insists He Won't Apologize To Omisore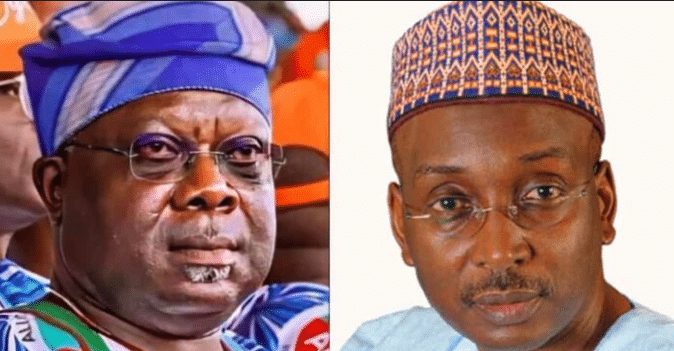 National Vice Chairman, Northwest, of the ruling All Progressives Congress (APC) Salihu Mohammad Lukman said the lawsuit filled against him by the party's National Secretary Senator Iyiola Omisore was a distraction.
Senator Iyiola Omisore's lawsuit against Lukman was in agitation against Lukman's claims that the APC National Secretary didn't account for the funds deployed for the last governorship election in Osun State.
Lukman was quoted as saying on Africa Independent Television (AIT), "And that is where we are and that is partly what is producing some of the unhealthy development in the party. For instance, Osun State, which is part of the reason why I said the National Secretary has failed, in terms of stabilizing Osun and uniting people.
"Part of the issue with that is that I am aware the party has given some campaign funds to Osun which was handled by the National Secretary and to some extent, he has either mismanaged it but more importantly, he is not accounting to anybody and you have to activate the process of accountability."
In reaction to the comments, Lukman received a letter on Wednesday from Omisore, sent through his lawyers, "Lords Temple," threatening legal action for libel against him.
The party scribe demanded that the libelous statement be retracted, an apology be published in two significant newspapers and numerous online news outlets, as well as "the payment of the sum of N500 million as damages for malicious statement against our client," all within a 48-hour time frame, in order to avoid legal action.
However, the party's national vice chairman claimed that he had only reiterated his call for Senator Abdullahi Adamu, the party's National Chairman, and Senator Omisore to resign.
According to him, their resignations would serve the interests of the country and the party, as well as to demonstrate the party's ardent support for President-elect Asiwaju Bola Tinubu's efforts to form an inclusive Federal Government on May 29, 2023
He said; "While in the case of the National Chairman, Sen. Adamu, the call is necessitated by the need to douse ethnic and religious tensions in the country because of the desperate campaigns led by PDP and LP during the Presidential election, the case of Sen. Omisore is necessitated by his inability to provide the needed leadership in Osun, which cost us the 2022 Osun Governorship election.
"I further supported my call for Sen. Omisore to vacate his position as the National Secretary with the demand for accountability around the management of campaign funds provided by the party, which was delivered through Sen. Omisore.
"In response, Sen. Omisore has sent abusive messages and requested his lawyer, Mr. Gboyega Oyewole, SAN, FCArb to ask me to retract my statement, make public apology and pay him the sum of N500 million in compensation for some alleged damages to 'his character in the eyes of right-thinking Nigerians.' I am in receipt of the letter from Lords & Temple, signed by Mr. Oyewole, dated 15th March, 2023 (the letter was actually wrongly dated 15th March 2022).
"Since Sen. Omisore's response to the request for accountability is to threaten legal action, I have also instructed my lawyers to respond appropriately to his legal threat."
As a follow up to his comments, Lukman's legal team, Lex-Hill City Attorneys, sent a letter addressed to Omisore's lawyers, Lords Temple to insist that the APC vice chairman won't apologize to the party's national secretary.
The letter reads; "We write as solicitors to Mr. Salihu Mohammed Lukman ('our Client') and on whose instructions we write to acknowledge receipt and to reply to your letter dated 15th March 2023 on behalf of Senator Iyiola Omisore.
"In the said letter, you referred to a statement made by our Client in the course of an interview with African Independent Television ('AIT') when he featured as a guest in one of their programmes, Jigsaw, hosted by Mr Gbenga Aruleba, which you alleged to have maligned the character of Senator Iyiola Omisore in his personal and political stature in Osun state and in Nigeria.
"It is the opinion of our Client that the statement he issued as a member and national officer of the All Progressives Congress ('the APC') is not false, not malicious or made to assassinate the character of your client as you suggested in your letter. The statement was purely a demand by a member of the APC for accountability from its National Secretary.
"Therefore, our Client believes that your client does not deserve any apology for the statement as it is within his constitutional rights as a member to demand accountability from a national officer of the APC, which was built on the premise of accountability".