Why Tinubu Will Not Invite Wike To His Table Despite His Help In Winning The Presidency – Atiku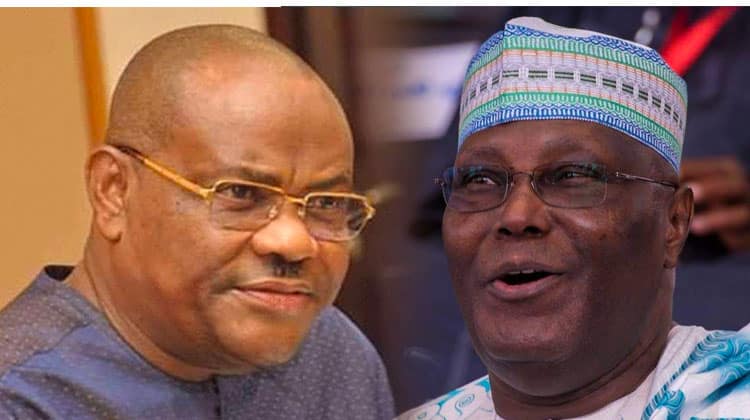 The Presidential Candidate of Peoples Democratic Party (PDP), Atiku Abubakar, has said that the President-elect, Bola Tinubu, will not work with the Rivers State Governor, Nyesom Wike despite his help in securing the presidency.
Speaking through his Special Assistant on Public Communications, Phrank Shaibu, in Abuja, on Wednesday, Atiku noted that it was sad that the Rivers State Governor successfully deceived four of his colleagues in the G-5 into committing political suicide.
He said Wike deceived Governors Okezie Ikpeazu (Abia), Ifeanyi Ugwuanyi (Enugu) and Samuel Ortom (Benue) into joining him in his actions.
Shaibu claimed that betrayal, hypocrisy and deception were part of Wike's DNA and that was why he had lost relevance outside Rivers State and had become nothing but a bull in a China shop.
The aide's statement was in response to a statement by the Rivers State Government wherein it warned Atiku to "caution his attack dogs".
He insisted that Tinubu would not break with Wike even after his support because the Rivers Governor is a snake.
He said, "Governor Wike's claim that he opposed Atiku for the sake of fairness is like a prostitute claiming to be in business in order to feed the poor. No one believes his lies anymore including those he pays to attend his sponsored events where he entertains them with horrible dance steps.
"Wike invited Peter Obi to Port Harcourt under the guise of commissioning projects only for him to work against the same Obi and then goes around to call Obi the hero of the election. This is obviously a shameless man who takes Nigerians for fools.
"Wike is a snake and that is why even after helping Tinubu to a dubious victory in Rivers State, even Tinubu cannot invite him to the dinner table because a snake is not the kind of animal you can invite into your home. Such animals cannot be domesticated."