Soludo Speaks On Threatening Anambra Residents To Vote APGA Candidates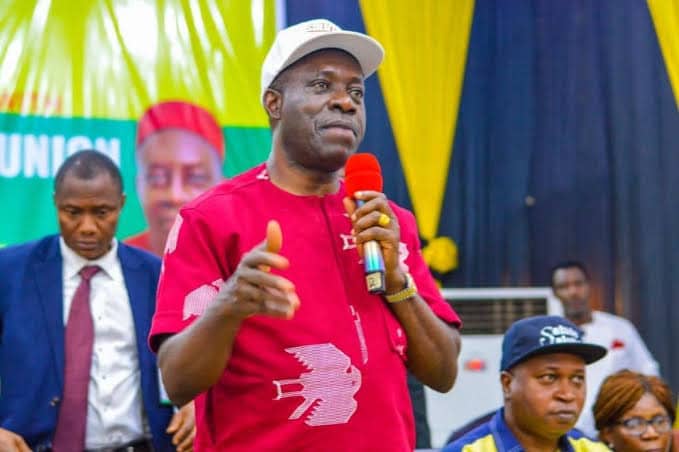 Governor Charles Chukwuma Soludo of Anambra State has denied threatening residents of the state to deliver candidates of the All Progressives Grand Alliance (APGA) in Saturday's House of Assembly election in the state.
Speaking through his press secretary, Christian Aburime, Soludo stated that he never threatened to blacklist traditional rulers and presidents' general of communities.
Aburime described as untrue allegations that the governor threatened anyone, adding that what Soludo said is in the public domain.
He said: "That is propaganda, which the opposition are using to blackmail the governor because they do not stand a chance on Saturday.
"The governor held an open meeting with members of his party and charged all to ensure APGA victory on Saturday. What is the secret about that?
"There is nothing like threat as what the governor said was in the open. So there is no way they can twist the words of the governor by saying what he never said."
Aburime said Soludo's achievements were enough to give APGA victory in the upcoming election.
According to him, opposition leaders are feeling uncomfortable because they know that Anambra remained APGA land and that they had slim chances of winning any seat in Saturday's election.
He added that apart from the fact that APGA is the ruling party in the state, it would be unfair for any Anambra indigene to see all the good works of the governor and still not vote for APGA in the election.
Aburime said: "The governor will be one year in office on Friday, but you will think he has been here for four years already. Within this one year, he has employed 5,000 teachers for our schools, that is something that has never happened anywhere before.
"When he came to office, there were no doctors in most of the hospitals across the state, but the governor has employed many doctors, nurses, and other caregivers, in addition to road projects being flagged off in all parts of the state.
"We are confident that on Saturday, we will win majority seats in the state assembly. No Anambra indigene who wishes the state well will allow another party to dominate the House of Assembly. That will create distractions in the developmental strides the governor has embarked upon."