Sanwo-Olu: We're Still Broken, Don't Expect Abule-Ado Votes' – Nollywood Actress Shares Devastating Ordeal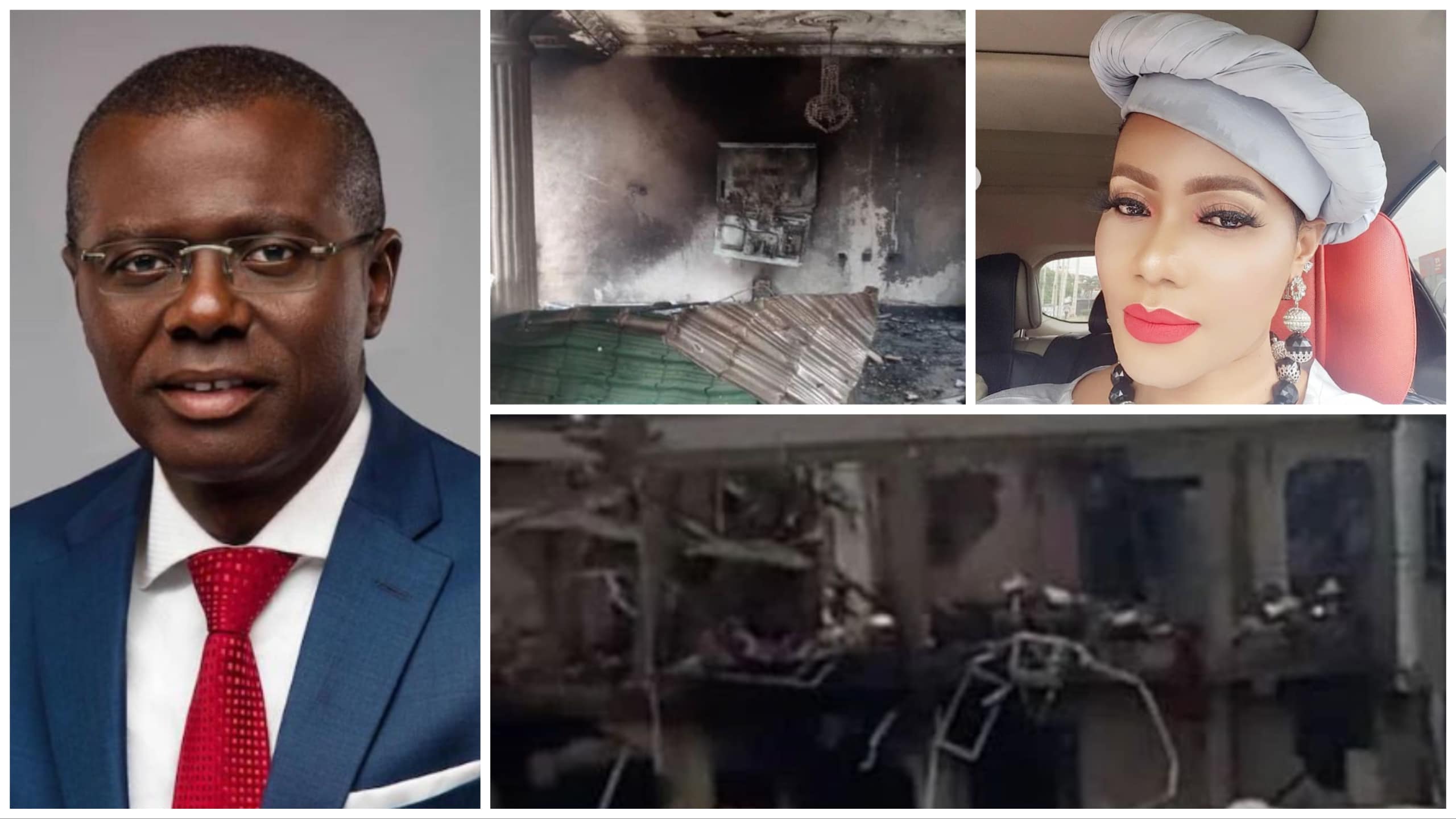 Ahead of the gubernatorial election on Saturday, Nollywood actress, Nkiru Umeh, has recounted the Abule-Ado Festac explosion under the administration of Lagos State Governor, Babajide Sanwo Olu.
Naija News reports that today marks the third year when an explosion and fire rocked the Abule- Ado area around Festac Town in Amuwo Odofin Local Council, a tragic incident that Lagosians will not forget in a hurry.
In a lengthy post shared on Instagram, Nkiru shared heartbreaking photos of her beauty complex which was razed down by the gas explosion stating that Sanwo-Olu's government also exploited residents.
According to the actress, she lost properties worth N300 million and she is yet to recover from the huge financial setback.
She noted that the Lagos State government gave 2.5 million to families who lost their loved ones with a promise to compensate those whose properties were burnt.
However, it has been three years since the tragic incident and Sanwo-Olu is yet to fulfill his promise, hence he should not expect the residents of the area to vote for him during the election.
Nkiru Umeh also revealed how government officials sold the debris of their razed properties, demanding that residents make payment to have access to their debris.
The post reads: "15-03-2020 to 15-03-2023 dear Governor @jidesanwoolu today marks it exactly 3 years hundreds of families lost their properties and some lost loved ones at the Abule ado explosion. My family recorded a loss of over N300m worth of properties and goods.
"Lives were lost. Properties worth hundreds of millions lost. You visited the sight. Took pictures and made promises that remain unfulfilled till this day. Politicians from different states and positions turned the sight to a studio for photoshoots, making empty promises. Traumatizing and harassing the already traumatized residents with their sirens and escorts. Lagos state gave 2.5m to families that lost lives, miraculously, my family lost no life.
"But in the worth of properties, after Bethlehem College, my family recorded the highest loss as everything both in my house and my beauty complex burnt to ashes with no pin saved. I do not live in Abule ado nor have my business there anymore, but I still have friends there. I am still recovering from that huge setback. I fought and refused to give up and started my business again from scratch without any assistance from the government.
"@jidesanwolu, are you expecting votes from the heart broken residents of Abule ado Festac? The wickedness was so bad that even the debris from the buildings were sold by the government, and the owners of these buildings were not allowed to make a dime from the debris of their own buildings. In fact, my husband was told to pay a huge amount of money for them to leave the debris and rods from our own house for us to sell. Yes, it was that bad.  Lost my cosmetics goods worth over N50m. It's exactly 3 years today. 15th of March 2020- 15th of March 2023. @jidesanwoolu, You made promises but didn't keep to it. We saw hell, and our hearts are still broken."