Nnamdi Kanu: Send A Doctor To Him To Confirm If We Are Lying – IPOB Slams DSS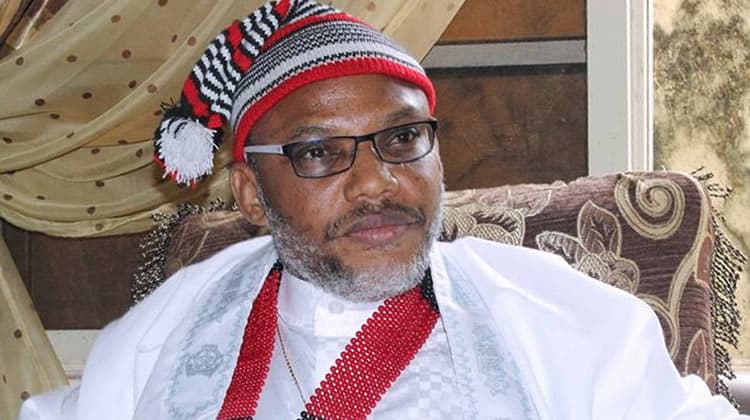 The Indigenous People of Biafra (IPOB) has said that their leader, Nnamdi Kanu, is suffering from nutrient deficiency and heart related disease.
The group stated this via a statement signed by its spokesperson, Emma Powerful, on Tuesday, March 14.
They urged the DSS to prove them wrong by sending a physician to attend to Kanu.
They wondered how it would be possible for anyone under solitary confinement to remain healthy when he is denied access to his doctor and other basic amenities.
The group urged the DSS to send a physician to their leader to ascertain if they were making up tales to curry public sympathy.
IPOB lamented that Kanu is in need of urgent surgery and called for the release of the activist for proper medical check up and treatment
The statement read, "A common sense question for the DSS is whether anyone is ever fine in their solitary confinement facility, especially someone they have refused a change of clothes, refused his praying shawl and denied access to his doctor when they are fully aware that he has a health issue.
"If DSS claimed that Kanu is adequately being taken care of and that IPOB and his lawyers are deceiving the public for sympathy, they should allow unfiltered access to his physician to investigate his present health status.
"It is imperative to deliver this message to the public that Mazi Nnamdi Kanu's health condition is still deteriorating inside DSS solitary confinement as a result of poor or lack of medical attention and feeding.
"Mazi Nnamdi Kanu has an unresolved nutrient deficiency. He also has an ear and heart condition that requires urgent surgery. DSS should release MNK unconditionally as ordered by the court or take him to specialists for proper medical examination and treatment. Recruiting media dogs to attack IPOB, MNK, and his legal team will not exonerate them should anything bad happen to our leader."