Peter Obi: Nigerians Slam Sanwo-Olu After Meeting With Oyedepo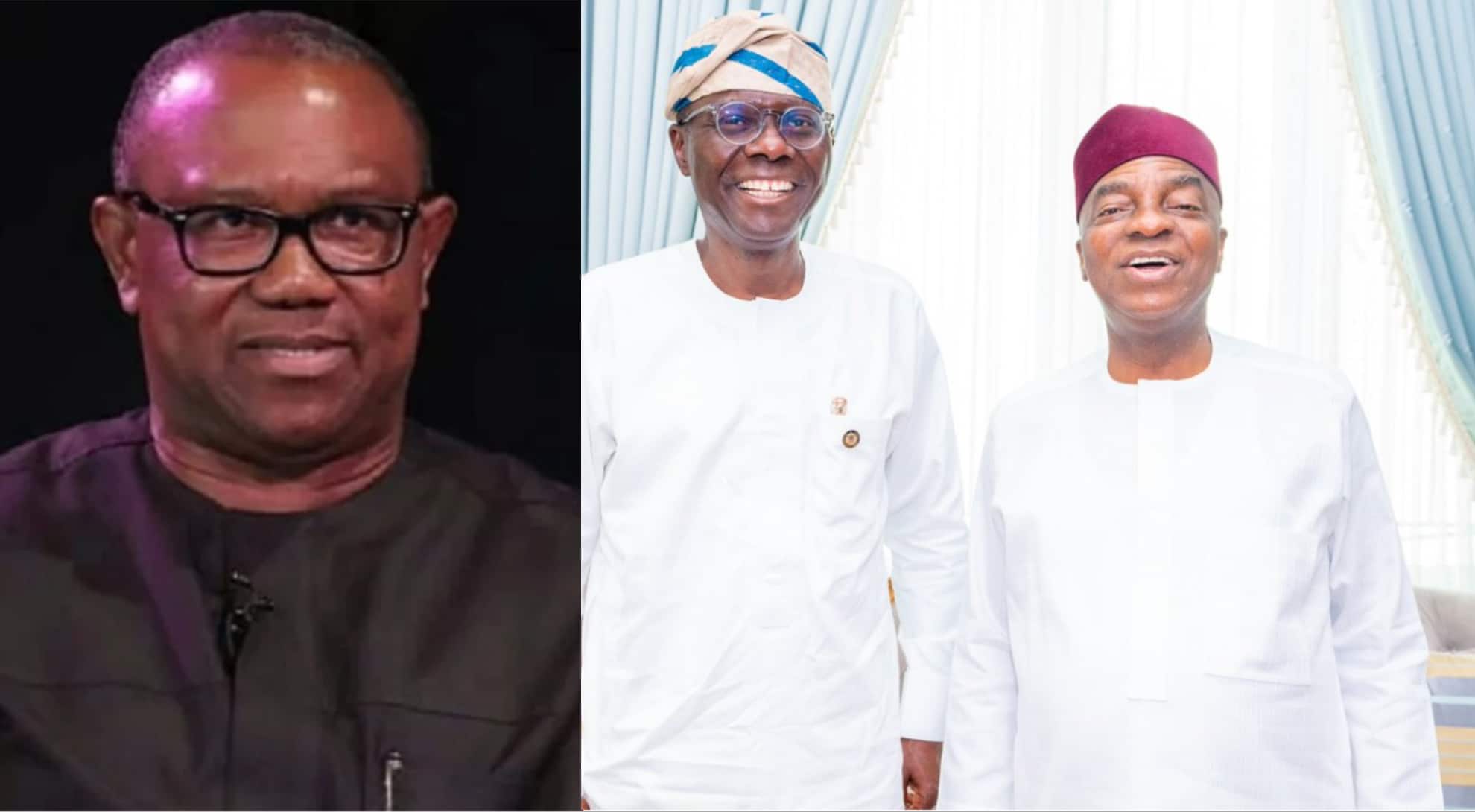 Nigerians on social media have accused the Lagos State Governor Babajide Sanwo-Olu of indulging in religious politics after he paid a surprise visit to the presiding bishop of Living Faith Church Worldwide, Bishop David Oyedepo, ahead of the March 18 date for the governorship and state Houses of Assembly elections.
Naija News reports that the Sanwo-Olu paid the courtesy visit on Monday at the church's headquarters in Ota, Ogun State.
Dressed in white, the governor posed for photos with Oyedepo who was also dressed in his customary white attire.
Sanwo-Olu announced his visit via Instagram on Tuesday saying, "I paid a courtesy visit to Bishop David Oyedepo founder of the Living Faith Church Worldwide, (Winners Chapel) and presiding Bishop of the Faith Tabernacle in Ota, Ogun State."
However, the visit did not sit well with some Nigerians who accused the governor of performing the same kind of politics they had criticized the Labor Party presidential candidate, Peter Obi.
Peter Obi of Labour Party was heavily criticized for visiting religious houses and using his religiosity to canvass for votes against the Muslim-Muslim ticket of the presidential candidate of All progressive Congress (APC) Bola Tinubu.
Reacting to Sanwo-Olu's visit to Oyedepo, Samuel Jimoh wrote: "Sanwo-olu jumping from pillar to post, he was in Harvesters on Sunday, yesterday in winners fighting for is politics life to be a Governor, after the election he will be no more invisible in the public. Vote him out, he does not deserve a second term in Alausa."
420 wrote: "But this is the same thing you all faulted Peter Obi for, that he went to churches, etc etc. APC are just bunch of crazy confused desperate spelled folks gaskiya. This is obviously so desperate and phony."
@yomi_mabayoje wrote: "I've said it ealie and it's happening. I knew LP will be a better opposition party compare to PDP . Because there's no way our governor will be campaigning in this manner if wasn't for PO and his party."
Olalekan  wrote:"When Obi was going to various churches, some idiots were opening their gutter mouths, spewing religious rubbish, now their MCM is doing the same, what have been the rhetoric? Silence!!! SMH."
Love, Vee wrote: "So forced and unoriginal."
Ayọ̀mírìndé #OyoStateObidatti'sParrot wrote: "Someone seeking re-election is closing his comment section, @GRVlagos can never do this. You don't even want Bishop Oyedepo to reply to your message either. WE DON'T WANT YOU AND YOUR MASTER IN LAGOS ANYMORE."