Naira Crisis: 'Emefiele Has Finally Been Thrown Under The Bus' – Fani-Kayode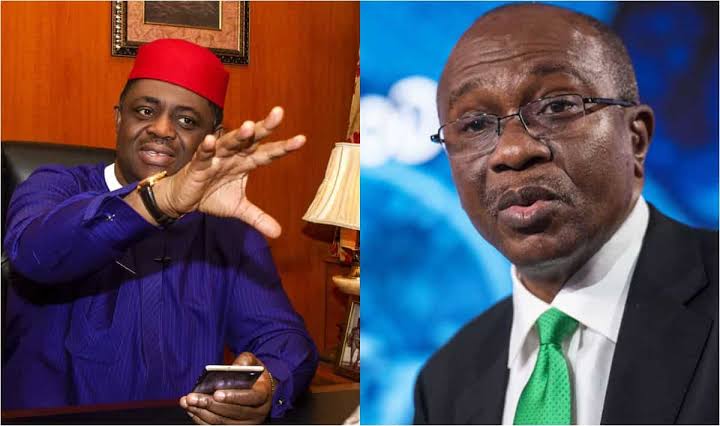 A chieftain of the All Progressives Congress (APC), Femi Fani-Kayode, has declared that the governor of the Central Bank of Nigeria, CBN, Godwin Emefiele, deserves punishment for inflicting pain and hardship on Nigerians following the recent cashless policy.
Recall the apex bank had, through its cashless policy, redesigned N200, N500, and N1000 notes, fading out the old notes since February 10.
However, the unavailability of the newly redesigned Naira notes and the inability of many Nigerians to access their money in banks caused havoc across the country with some people losing their lives.
Hours after President Muhammadu Buhari's statement on the Supreme Court order, the CBN bowed to pressure on Monday and ordered the recirculation of the old N500 and N1000 Naira notes until December 31, 2023.
Reacting to the development, Fani Kayode said the party's stalwarts who fought for the return of the old notes have thrown Emefiele under the bus.
According to him, Emefiele's wickedness has no limitation, describing him as the most sadistic soul that has ever been given power in the country.
He said: "Godwin has finally been thrown under the bus. He deserves the worst. A psychotic & vicious sociopath, he is undoubtedly the most sadistic soul that has ever been given a position of power in our nation's history.
"His cruelty surpasses all others & his wickedness has no limitations"
The former Aviation Minister added that for inflicting pains on common Nigerians via the Naira policy, Emefile's gravestone should carry the inscription, "Here lies Godwin the fool who thought that he would live forever, who thought that power lay in the hands of mere mortals and who thought that money was greater than God. May he burn in hell forever".