Asiwaju Hurricane Would Have Consumed Him – Fayose Reveals Why Makinde Deserves Second Term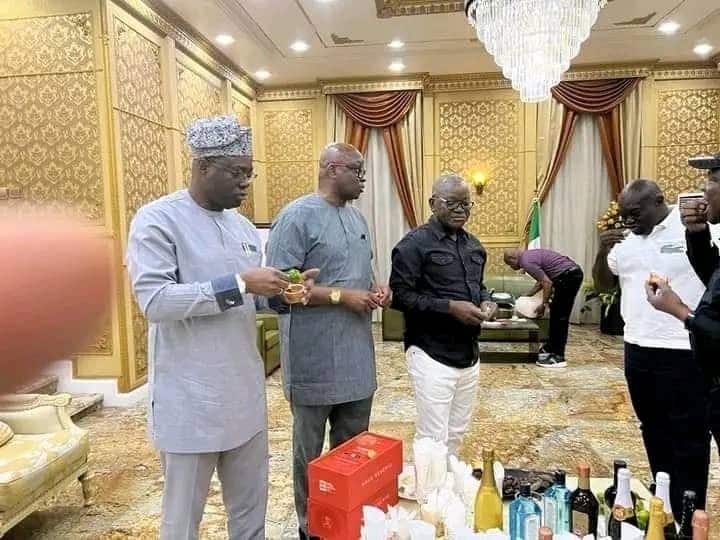 A former governor of Ekiti State, Ayodele Fayose, has urged Oyo State residents to relect Governor Seyi Makinde for a second term in the March 18th gubernatorial election.
Recall that Makinde is part of the G5, a group of the Peoples Democratic Party (PDP) governors who refused to support and campaign for the PDP's flagbearer, Atiku Abubakar. There were speculations that Makinde contributed to the victory of Bola Tinubu, president-elect, in the state.
Speaking on Monday on a Fresh 105.9 FM programme, in Ibadan, Oyo state capital, Fayose stated that the 'Asiwaju hurricane' would have consumed Seyi Makinde if he had not stood for equity and justice.
He stated that despite his issues with Makinde politically, the governor has done well and deserves to be reelected, adding that Makinde stood for equity and fairness with regard to the presidential election.
Fayose said: "Let me commend Makinde's efforts in the G5 group and history is already kind to him.
"Let me tell you, from the beginning to the end, Makinde has always said that he stands for equity, justice, and fairness.
"Yes, working against an Asiwaju in Yorubaland too is a matter that deserves courage. If anybody in PDP is chosen, for example, if Makinde is chosen to be president, will we work against him even if we were in APC?
"If Makinde had not taken that honourable stand, the Asiwaju hurricane would have consumed him.
"Makinde, by all standards, has done well for the Yoruba nation. Whether it was assumed that it was his 'effect' that caused that problem or not, he already stood for the future of our country because our argument is that it should either be Obi or Asiwaju because they are from the southern part of Nigeria.
"Let me equally remind our brothers and sisters in Oyo state that Makinde has no powers to make you lose elections. One, he lost his polling unit. Will he hate himself? No.
"But the tide must not be denied. That was the tide in Ogun state, Ondo state, and Ekiti states. So, it is unfortunate and I want to plead with you not to throw the baby and the bath water away.
"You know me and Makinde had issues but let us give it to him as he tried. He did his best in this state. My people, if anybody is saying a young governor, he was a young man at the time he became the governor of Oyo state."
Fayose said Makinde was able to win his heart with the infrastructure development in the state, stressing that the governor should be given the opportunity to serve for two-terms just like the late Abiola Ajimobi.
He said: "There are about three projects that drew my attention in the state. One of them is that circular road, which will burst out at Asejire and I am looking forward to its completion.
"Another one is the Iseyin road. I was a student at Olivers Baptist High School in Oyo. Until the project was done, it was a nightmare.
"Most governors will develop the major city, which is Ibadan. But let me say to you that Makinde is still the best option.
"I have nothing against anybody but he is the best and only option. Please, support him.
"I can tell you that there is no governor that can complete all the jobs. We were there some time ago and thought it wouldn't end but it ended, Four years is not long. He has done well. I said earlier that we do have issues."