China: Buhari Congratulates President Xi Jinping On Re-Election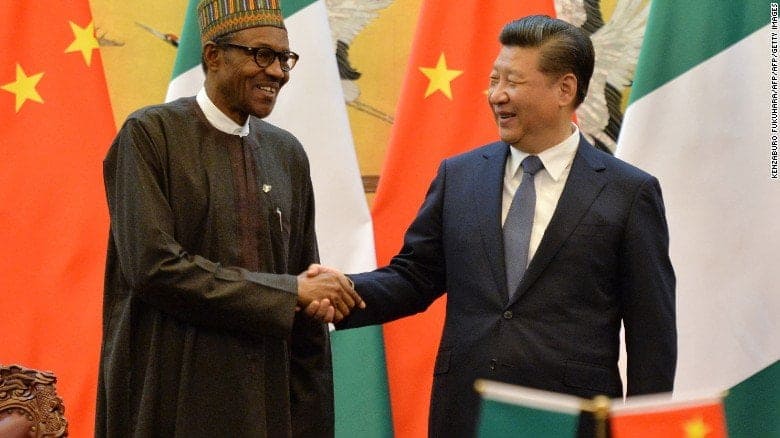 President Muhammadu Buhari has felicitated Xi Jinping following his re-election as President and chairman of the Central Military Commission (CMC) of the People's Republic of China.
Naija News understands Jinping's latest win makes it his third term of five years as the country's leader.
In a statement issued through his spokesperson, Femi Adesina, President Buhari expressed optimism that under the leadership of President Xi, relations between China and Nigeria, which dates back to 1971 when both countries formally established diplomatic ties, would be expanded rapidly on bilateral trade and strategic cooperation.
The Nigerian leader also hoped that the future outlook of this strategic partnership with China will continue to blossom in leaps and bounds in the areas of military, political, trade, finance, oil and gas relations as well as cooperation in the telecommunications, agriculture, infrastructure development and manufacturing sectors.
In conclusion, Buhari wished the government and people of China continued peace, progress and prosperity under the able and trusted leadership of President Xi.
Meanwhile, the Presidential Transition Council has begun preparing for the transfer of power from President Muhammadu Buhari to his successor, Bola Tinubu of the All Progressives Congress (APC).
At a joint briefing between the officials of the Ministry of Defence and members of the Transition Technical Task Team (TTTT) on Friday, Dr. Ibrahim Kana, the Permanent Secretary of the Ministry of Defence, confirmed that the council would ensure a smooth transition of governance for the incoming president.
He also disclosed that a roadmap had already been established for the next leader to enable a quick start of his administration.
Kana revealed that the council would focus on the nine priority areas of the current administration, with security being among the areas of concern. He also noted that his ministry had set up a ministerial transition task team to oversee the process.
The Presidential Transition Council, which was inaugurated on February 14 by the Secretary to the Government of the Federation (SGF), Boss Mustapha, is responsible for ensuring the security of the President-elect and Vice President-elect, coordinating briefings on security matters post-election, providing fully furnished offices and personnel for the President-elect and his/her transition team, and organizing the swearing-in ceremony.
Dr. Habiba Lawal, the Special Adviser to the President on Policy and Coordination, serves as the Secretary of the Presidential Transition Council in line with Executive Order No. 14 of 2023.