Race For Senate Presidency Heats Up As 70 Senators-elect Meet Jibrin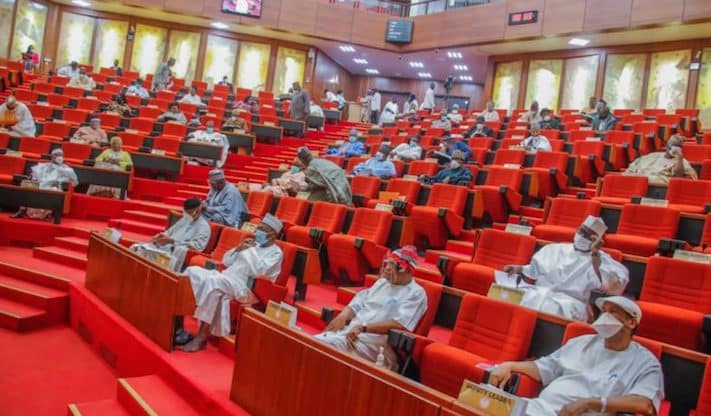 With momentum gathering ahead of the contest for Senate Presidency, those in contention to replace current Senate President Ahmad Lawan have begun holding strategic meetings to woo lawmakers to their side.
Naija News reports that sources have disclosed that the ruling All Progressives Congress (APC) would likely zone the Senate Presidency to the Southeast or Southsouth so that a Christian would hold the position.
However, political analysts believe Northern Muslims would shun the ruling and contest for the nation's number three position.
This publication gathered that 70 Senators-elect of the 10th National Assembly met at the Abuja residence of one of the contestants, Senator Barau Jibrin of APC, Kano State, to strengthen the political bond ahead of the inauguration of the National Assembly in June.
The meeting, originally planned as a luncheon at the NICON Luxury Hotel, Abuja, for political like-minds, lasted for over an hour.
Naija News understands that the meeting was a political strategy by Jibrin, the incumbent Chairman of the Senate's Appropriation Committee and third-term Senator, to sway support for himself.
A senator-elect, who attended the meeting, said the attendance cut across political divides, as senators-elect from other political parties, were present.
"Jibrin has a thorough understanding of parliamentary proceedings, and he is an easy-going fellow. He has my vote come June when the 10th Assembly will be inaugurated," a lawmaker, who is from the Southern part of the country, said.
Also, a Senator-elect from the South-South, who is going to the Senate for the first time, said: "Senator Jibrin will surely have my vote for the Senate Presidency. He is a fantastic lawmaker with good leadership qualities."
However, after swearing-in on May 29, 2023, the new president, in the second week of his tenure, will transmit a Proclamation Letter to the National Assembly to terminate the Ninth Assembly and kick-start the 10th Assembly. This will give room for the emergence of new presiding officers for the legislature.