Cubana ChiefPriest Speaks On Fathering Child With Alleged Kenyan Side Chic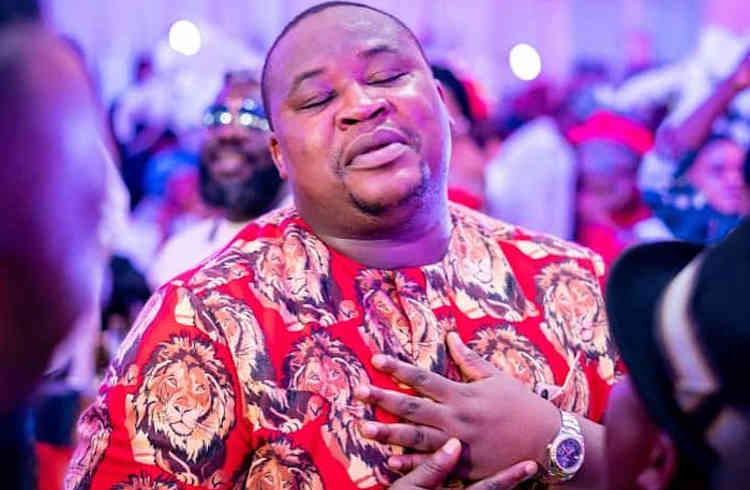 Popular Nigerian socialite cum celebrity barman, Cubana ChiefPriest, has reacted to the allegation of fathering a child with alleged Kenyan side chic.
Naija News reports that an Instagram blog had alleged that Cubana ChiefPriest welcomed a baby with his side chic who resides in Kenya.
Reacting via a lengthy post shared on Instagram, the socialite dared the blogger to conduct a DNA test on the baby and vowed to double the expenses if proven that the child belongs to him.
According to him, he is financially rich to take care of any children outside his matrimonial home, however, he could not succumb to cheap blackmail.
He wrote: "Am so rich that if I have a child outside my matrimonial bliss no one will know about it. Gistlover feels I can pay him/her for blackmail that's so funny me of all people. Oba without palace if e sure for you pay for the logistics for the DNA with your money I go run am. If the baby is mine I will double your expense if you can't afford to pay show yourself and I will send my money to do it.
"Social media kidnapper you dey find money, you guys have been trying to blackmail me since last year to give you money. It's a huge disrespect to me to say my child was born in Kenya of all places God forbid. I assemble my babies in Nigeria and make them in America am too detailed to do such low-key
You wanna throw eggs to my beautiful home, one thing is for sure live by the sword die by the sword. One day you go surely cast and the rest will be history. What have you not fine you have shared nudes of celebrities just to gain clout for yourself and to destroy them.
"So funny you can't destroy what you did not make. When I bought my wife a G63 you did not post it. When I built her a glad house you did not post it when I took her on luxury vacation trips All over the world you did not post it when I bought her a Birkin you did not post it when I had my kids in Yankee you did not post it etc. You're nothing but an agent of destruction to great people but you can only survive on weak people.
"My marriage is bullet proof. My relationship with my wife is built in so much love, loyalty, respect and wealth. It's indestructible."