Hold Fani-Kayode Responsible For Attacks On Igbos In Lagos – Ohanaeze Youths Tells FG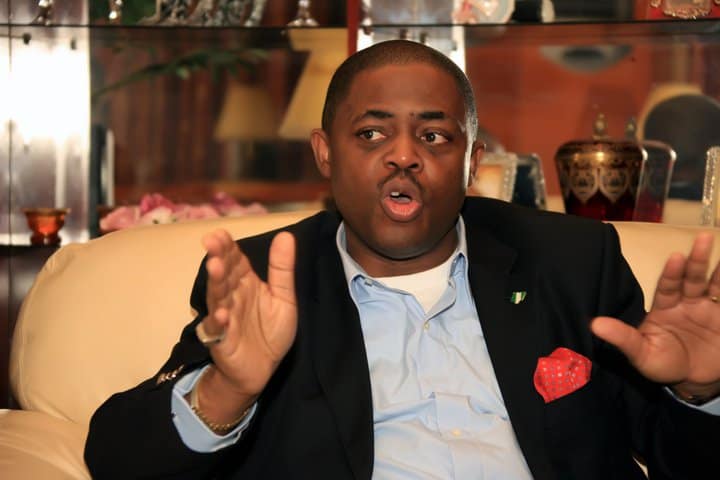 The Ohanaeze Ndigbo Youth Council Worldwide has accused former Aviation Minister, Femi Fani-Kayode, of fanning the recent attacks on Igbos residing in Lagos State.
Naija News understands that the apex Igbo socio-cultural organization was reacting to recent social media publications by the All Progressives Congress (APC) chieftain where he accused the Labour Party governorship candidate in Lagos State, Gbadebo Rhodes-Vivour (GRV), of playing Igbo cards.
Fani-Kayode had taken to his verified Twitter page days ago and lampooned GRV for participating in the nationwide protest against police brutality.
GRV had joined other Nigerian youths in lending their voice against the Special Anti-Robbery Squad (SARS), a section of the Nigeria Police Force, for its continued killing and torture of 'innocent' citizens.
Naija News recalls that the EndSARS protest was seized by hoodlums and resulted in the death of many and also damaging properties in Lagos and other cities in the country.
In his Twitter post, Fani-Kayode said: "How can such a well brought up & distinguished young man be one of those that joined the mob to burn buses during the Endsars riots?
"How can he be one of those that turns his back on his own Yoruba people, hero worship secessionists like Ojukwu & conspire to hand over Lagos to the Igbo. Can any Igbo man do that for a Yoruba in the East? Is he aware of what the Yoruba were subjected to in parts of the east during the just concluded presidential election?
"Does he know the number of Igbos that were killed, tortured & whose homes were burnt in the east simply because they dared to vote for Bola Ahmed Tinubu, a Yoruba man?
"I love the Igbo & I believe in a plural society which welcomes all ethnic nationalities & creeds but to hand Lagos over to them as a way of compensating them for their past woes is absurd.
"That would be absurd and suicidal and we will NEVER allow it to see the light of day. What happened to this otherwise brilliant and cerebral young man called Gbadebo Rhodes-Vivour? What has got into him? Is he possessed? Is he in need of prayer and deliverance?"
Ohanaeze Youth's Reaction
However, the youth chapter of the apex Igbo socio-cultural organization has called out Fani-Kayode, saying his comments and other unnamed persons stirred the continuous attacks on the Igbos residing in Lagos, a development they described as unacceptable.
Naija News understands that attacks on Igbos in Lagos have persisted after the February 25th presidential election.
Recall that the presidential candidate of the ruling All Progressives Congress (APC), Bola Tinubu, lost the votes in Lagos to Peter Obi of the Labour Party.
Tinubu was a two-term Governor of Lagos State but was defeated by Obi in the presidential election in the state. Ohanaeze Youth is, however, displeased with the arson on the Akere market, dominated by Igbo traders.
Recall that a security guard was reportedly killed during the incident by political thugs, with over 200 shops burnt.
In a statement released on Friday morning by its National President, Mazi Okwu Nnabuike, Ohanaeze Youths said some personalities, including Fani-Kayode, should be arrested for making inciting statements earlier before the attack.
Ohanaeze said the spare parts market burning was a case of "a witch crying in the night and a baby dying in the morning."
The apex Igbo group's statement read: "Fani-Kayode and his ilks prepared the ground for the mayhem being unleashed on the Igbo people in Lagos. Apart from the market fire, many Igbo people have been attacked in different parts of Lagos.
"There are also reports of some Igbo traders being chased away from their shops. This is uncalled for, and unacceptable and should end immediately.
"Ndigbo has suffered enough injustice in this country, and it should not be allowed to continue. It is incomprehensible that Fani-Kayode should brand the LP candidate as an IPOB apologist. It means that Fani-Kayode's children from his estranged wife Chinwendu are all IPOB members.
"We know Fani-Kayode as a man without character; he says one thing in the morning and another in the afternoon, changes again in the night once the food is dangled before him.
"However, he should let Ndigbo be and not drag us into his inconsistent personality. His claims of supporters of Tinubu being killed in the South-East during the presidential election is just one of those his moonlight tales and should be discountenanced.
"Both local and international observers were in the South-East during the polls and attested to the fact that the people of the South-East disappointed bookmakers, including Fani-Kayode, who prepared the zone for a bloodbath. He is angry that Ndigbo came out to vote.
"Having said this, we urge the President Muhammadu Buhari-led Federal Government and Governor Babajide Sanwo-Olu to ensure the protection of Igbo people in Lagos.
"Nobody is above the law; this is why Fani-Kayode and his paymasters should be held responsible for all the atrocities against Ndigbo in Lagos. He must surely be held liable.
"Nobody, I repeat, nobody can intimidate Ndigbo in this country; any other further attack on Igbos in Lagos will be resisted, no matter those behind the preparators.
"Ndigbo should go out on March 18 and cast their votes for the candidate of their choice.
"May we remind Fani-Kayode and his ethnic jingoists that a Fulani man from Sifawa in Sokoto Caliphate – Mallam Umaru Altine, in 1952, became elected as the first Mayor of the City of Enugu, the heartland and heartbeat of the Igbo Nation. He was in office till 1958.
"This goes on to show that the Igbo are never the problem of this country but are rather more accommodating than anyone else. We should not be pushed any further," Okwu warned.