CBN Denies Directive On Disbursement Of Old Notes – Banks React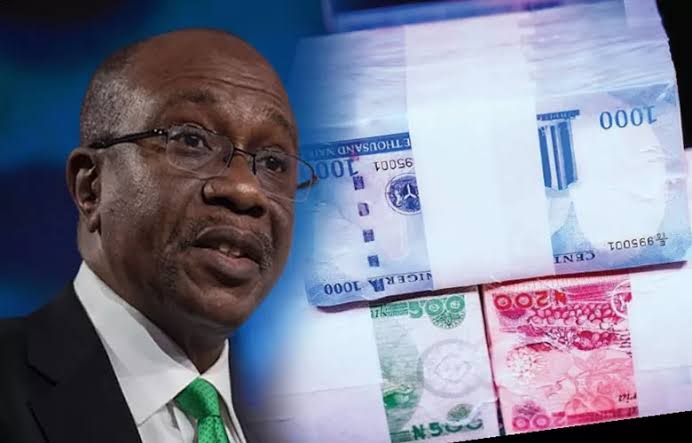 Some commercial banks in Nigeria have taken a bold step to commence the disbursement of old N1,000 and N500 notes in their banking halls and Automated Teller Machines (ATMs), Naija News understands.
This is despite the Central Bank of Nigeria (CBN) clarifying that it has not issued a fresh directive to commercial banks on last Friday's judgment of the Supreme Court ordering the circulation of the old naira notes alongside the new ones until December 31.
Recall that the apex bank's currency redesign policy and Naira swap programme have raised controversies since its implementation.
The policy, despite its goodwill, has brought untold suffering to Nigerians, and concerned stakeholders have since challenged the CBN and the federal government in court.
A few days ago, a seven-member panel of justices presided over by Justice Inyang Okoro had described as unconstitutional President Muhammadu Buhari's directive to the CBN for the redesigning and withdrawal of old notes of N200, N500 and N1,000, without consultation with the states, Federal Executive Council, the National Council of States, and other stakeholders.
However, the CBN has remained muted since the court made its position known. The development, has, however, left commercial banks and business operators in confusion.
Speaking earlier on Tuesday, the CBN spokesman, Isa Abdulmumin, explained to reporters that the CBN has not issued an official statement on the circulation of the old naira notes.
However, a senior management source who spoke to Daily Trust said: "Both the old and new notes are legal tender, and banks are currently issuing them to customers. Nigerians should not reject any note, whether old or new."
Naija News understands that commercial banks across the country have, however, acted on their own and commenced dispensing the old N500 and N1000 notes to their customers.
The likes of Guarantee Trust Bank (GTB) reportedly began dispensing the old notes across its branches nationwide on Monday.
Findings by journalists in Lagos also confirmed that banks have started issuing the old naira notes to customers at their various Automated Teller Machine (ATM) terminals and over the counter.
According to Daily Trust, the Zenith Bank branch in Festac Town paid the old notes to customers over the counter. The ATMs at the branches of the United Bank for Africa (UBA) close to Agege-Pen Cinema Bridge, and GTB in the Ikeja area of Lagos, were also dispensing the old notes.
Naija News learnt from reports that WEMA Bank has instructed its branches to start dispensing the old N500 and N1000 notes nationwide also.
Also, an official of Zenith Bank who preferred anonymity told Daily Trust that the branch had "received orders to begin dispensing old notes to our customers." A Zenith Bank customer, Barrister Dike Amadi said, "I was paid the old N500 notes this afternoon at a Zenith Bank branch in Port Harcourt."
Another customer, Aina Dipo, said, "Old naira notes of N500 and N1000 are now being dispensed in Osogbo, Osun State."
The CBN's delayed official statement, however, left First Bank, Polaris and Unity undecided as of reporting time.
Journalists who visited First Bank, Polaris and Unity bank branches, affirmed that they were only dispensing the old N200 as directed by the CBN.
A First Bank branch manager in Kano that was interviewed by newsmen said: "We have not received any circular from the CBN to accept the old notes, and that is why that is not happening as we speak."
How Business Outlets Reacted To Old Notes
Naija News understands that supermarkets, fuel stations and commercial bus drivers in some parts of Lagos are rejecting the old notes.
The development is of concern as residents lamented the crisis amid other issues bedevilling the country.
"What is this confusion. Supreme Court says the old naira remains valid till December, and banks start dispensing old notes but buses, supermarkets, fuel stations, and so on are not collecting the old notes. It's like this country is on autopilot," a resident of Lagos, Olaiya Simileoluwa said.
Similarly, Kate Hensley Haziel who also resides in Lagos said, "I think after the Supreme Court judgment that the old 500 and 1000 naira will remain legal tender until December 2023. The CBN at least still needs to address Nigerians. Many people are still confused about whether or not to accept the old notes."