2023: Apologize For Sabotaging Peter Obi's Ambition – Umeh Knocks Soludo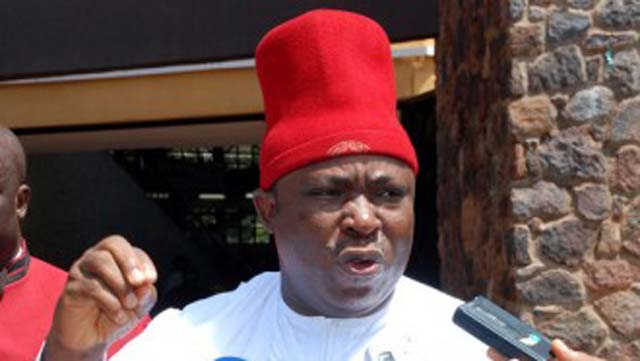 The Senator-elect for Anambra Central, Victor Umeh has accused the Anambra State Governor, Chares Soludo of sabotaging the presidential ambition of the Labour Party (LP) candidate, Peter Obi.
To this end, Umeh asked Soludo to apologize to the people of Anambra, Ndigbo, Nigerians and Peter Obi himself in a state broadcast.
The Senator-elect who dumped the All Progressives Grand Alliance (APGA) for LP told Soludo that he should not be seeking votes for APGA candidates in the forthcoming state house of assembly election.
Umeh alleged further that Soludo wants APGA candidates to win so he can be able to control the legislative arm but added that if the Governor is actually performing well, he shouldn't be agitated about those in the legislative arm.
Speaking in a radio program in Anambra State, Umeh expressed the readiness of the Labour Party to vote en masse for the candidates of the party in Saturday's election.
He said: "Governor Soludo should do a state broadcast and apologize to Anambra State, Peter Obi, Ndigbo and Nigerians for campaigning against the leader of the new political movement in Nigeria Mr Obi before asking for votes for candidates of APGA in the State Assembly election coming up on Saturday.
"Our campaign in LP is top to bottom and top to bottom ends on March 11. Mr. Obi called a world press conference at Abuja and asked us to vote for LP candidates for governorship and the house of assembly election on march 11.
"Soludo said that Peter Obi will not get 25% in 3 States but according to INEC, Peter Obi got 25% in 20 States but when they announce the real result, Obi will get 25% in 30 States.
"It is surprising and amusing that Governor Soludo is now desperate to call meetings and begging everyone to vote for APGA on march 11 so that he will not be impeached, but that is an exercise in futility, House of Assembly is not the property of anybody.
"No one will impeach him, but we need legislators that will check his executive recklessness. He should stop being afraid of his shadows, and face his work and do well instead of pleading for rubber stamp lawmakers. The only way for democracy to thrive in Nigeria is when you have independent lawmakers.
"Soludo's arrogance should be checkmated. If he doesn't have a skeleton in his cupboard then he will do his work with his executive power. Independent legislators are needed to stop his impunity.
"If he doesn't commit an impeachable offence, then he won't be impeached. Obi was a governor in his first term in office with no APGA legislator. When he was removed by the legislators, he came back through the court because he committed no impeachable offence."