Lagos Guber: Jandor Speaks On Stepping Down For Rhodes-Vivour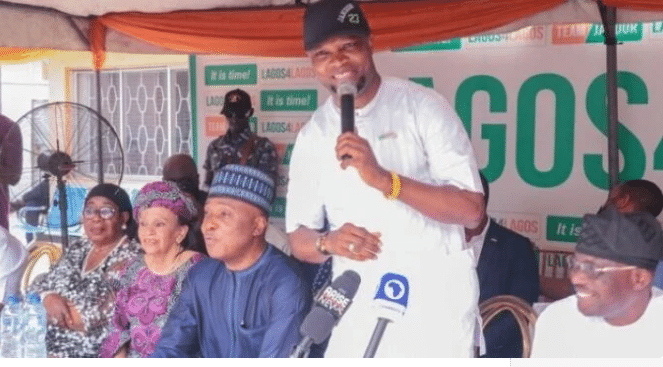 The Lagos governorship candidate of the Peoples Democratic Party (PDP), Abdul-Azeez Olajide Adediran (Jandor), has denied a claim that he is planning to step down for his Labour Party (LP) counterpart, Gbadebo Rhodes-Vivour.
Jandor also stated that there is no truth in a social media report that he would collapse his structure to work for the LP following the exploit of its flagbearer, Peter Obi, in the last presidential election.
Adidran made this known in a statement issued by the Chairman of the Media, and Publicity Team for JandorFunke 2023 Campaign Council, Hakeem Amode, on Monday.
Amode also debunked a recent statement credited to Rhodes-Vivour that he is talking with "the real owners of PDP structure" in Lagos State for possible alliance towards the forthcoming gubernatorial poll.
He, therefore, urged teeming PDP supporters and good people of Lagos to vote for Adediran in the March 11 governorship election.
The statement read in part: "The claim as credited to the Labour Party Candidate came as disrespect to PDP, as no one can lay claims to the ownership structure of the PDP. PDP is a proper Democratic Party and it's only the State Executive of the party as recognized by the National Body can be described as the custodian of the PDP under the leadership of the party's Governorship Candidate Dr. Abdul-Azeez Olajide Adediran (Jandor).
"So whoever Gbadebo Rhodes-Vivour is talking to is only representing themselves and not Lagos PDP, as no official conversation across the two-party lines at the moment, and Jandor is NOT planning to step down for any candidate.
"Jandor as a candidate in this election achieved making the Jandor brand a household name in Lagos on his own merit due to his immense hard work, and he's not riding on any sudden waves.
"We are using this opportunity to urge our teeming supporters and good people of Lagos that the decision of the people to ensure that Lagos breaks free will be respected and defended in the coming gubernatorial election of March 11.
"The efforts to liberate Lagos from the present oligarchy government of APC cannot be undermined by people who do not see such a great battle that must be won and cannot be subjected to social media cruise."