There's No President-elect, It Was Daylight Robbery By INEC – Pa Adebanjo Rejects Tinubu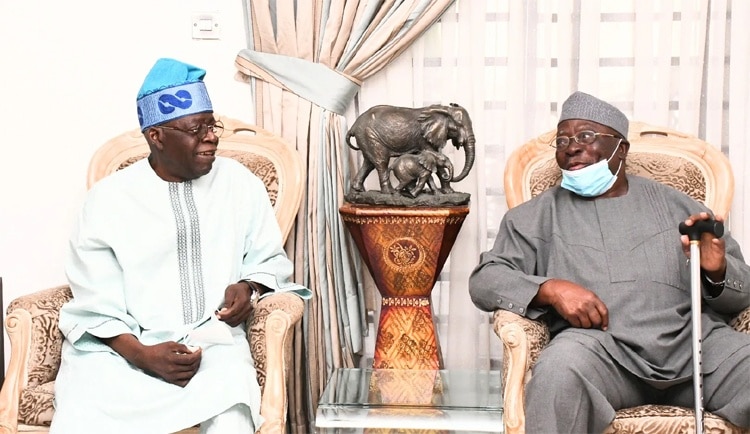 Leader of the Yoruba socio-political group, Afenifere, Pa Ayo Adebanjo has rejected the outcome of the 2023 presidential election which produced the All Progressives Congress (APC) candidate, Bola Tinubu as the winner.
The Afenifere leader argued that the election result as declared by the Independent National Electoral Commission (INEC) can't stand because it didn't follow due process.
Pa Adebanjo also described the INEC Chairman, Prof. Mahmood Yakubu as a great disappointment adding that the presidential election outcome declared by INEC is simply daylight robbery and doesn't represent the will of Nigerians.
The Afenifere leader said the presidential election result, will not stand and Tinubu will be removed in due course.
In his words during a Friday appearance on Arise Television, Pa Adebanjo said: "I listened to the Chairman of INEC when Dino Melaye told him to suspend, not cancel the collation, citing a lot of irregularities so that he can correct them. He said 'no I promise, if you let me complete this exercise, I'll review it.
"As for the Chairman, those of us who know him know that he has not been the man that he should be. He's a great disappointment. This is not the first time he would be disappointing Lagos people. In 2019, he deceived us and now he's done it again thinking that Nigerian people are fools.
"And I said it before in this election nobody can Babangida us. It was a daylight robbery. The whole country supported you to amend the electoral law to ensure it is is transmitted by electoral law and at the time of the election you came back to fight us. What a shame. I'm only sorry for the country.
"I'm only sorry for the youths. But I warned you before, this government is a disaster… It's a disaster that God will help us get rid of. There's no President-Elect at all. It's just a sham that will be removed in due course. We're all living witnesses to it. Why won't we follow the law provided for the election?"