2023: "Pervasive Anger In The Land Dictated The Voting Pattern" – Akeredolu Sends Message To Tinubu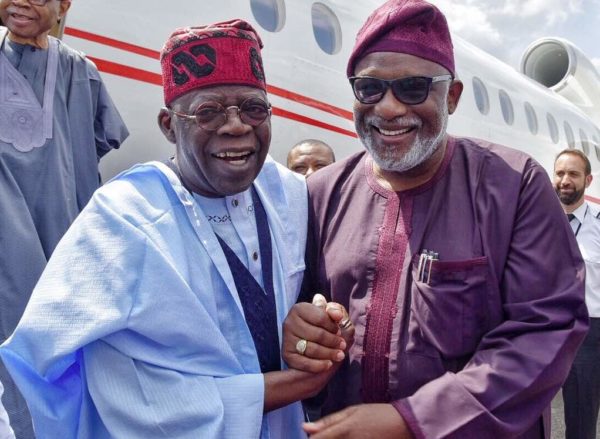 Governor Rotimi Akeredolu of Ondo State has charged the President-elect of Nigeria, Bola Tinubu to use the opportunity given to him by the people of the country to continue with the developmental activities of the current administration.
Akeredolu who said this in his congratulatory message to Tinubu on Wednesday after the former Lagos State Governor was declared winner of the 2023 presidential election, pointed out that the pervasive anger in the land, to a large extent, dictated the voting pattern during the just-concluded election.
The Ondo State Governor said his administration would engage the incoming government on implementing and operating true federalism.
He also urged other contestants to accept the election result in good faith, and join hands with the winner to build and develop Nigeria.
Naija News recalls to emerge winner of the keenly contested presidential election, polled a total of 8,794,726 votes from the 36 states and the FCT to emerge president-elect ahead of his closest contenders, Atiku Abubakar of the Peoples Democratic Party (PDP) who got 6,984,520, and Peter Obi of the Labour Party who secured 6,101,533 votes according to figures declared by the Independent National Electoral Commission (INEC).
Congratulating the former Lagos State Governor, Akeredolu said in the statement: "This victory offers yet another opportunity for the ruling party, APC, and the incoming government to continue with the developmental strides taken by the current Administration. Furthermore, it is a rare chance given by the people to the new leaders to tackle, headlong, the factors militating against socio-economic development in the country. The Nigerian State must be administered true to the acclaimed federal status. The Government and the people of Ondo State hope to engage the Federal Government, vigorously, on these issues. There will be no compromise on this stance.
"The people of this country expect a paradigm shift. The results of these elections represent their eloquent rejection of the politics of prebendalism which has made them become despondent. The pervasive anger in the land dictated the voting pattern, largely. We must be courageous enough to dismantle all structures which stifle development. The people have chosen competence and a verifiable record of quintessential performance over narrow-mindedness, propelled by ethno-religious considerations, and sinister predilections anchored on dubious claims to spiritual superiority and knowledge. They await, anxiously, the fulfilment of these promises. We cannot afford to disappoint ourselves as their minds are made up on getting quality service.
"Once again, I congratulate the President-Elect, the Vice President-Elect and all those who won their elections into the National Assembly, on this great victory and wish them a successful tenure in office."