Presidential Election Results: Peter Obi Coasting To Victory, Leads In 15 Anambra LGAs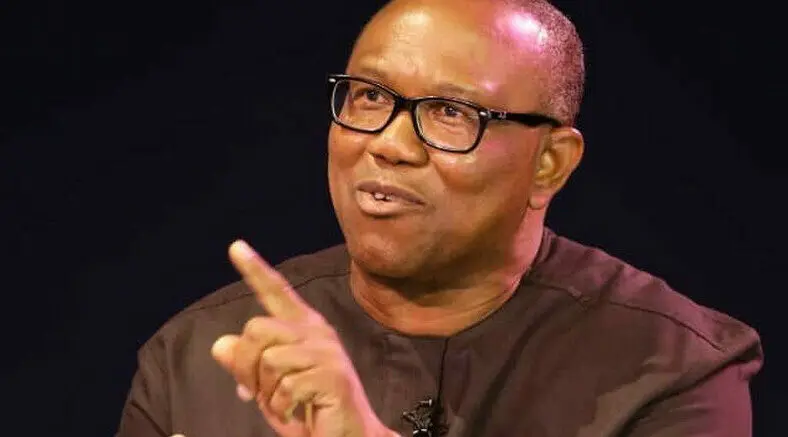 The Labour Party (LP) presidential candidate, Peter Obi, is leading in 15 Local Government Areas in Anambra State.
Naija News reports that presidential election results announced so far from the collation center put Peter Obi ahead of Peoples Democratic Party (PDP) candidates, Atiku Abubakar and Bola Tinubu of the All Progressives Congress (APC).
The former governor of Anambra State also won in Aguata LGA, the hometown of the incumbent governor,  Chukwuma Soludo, scoring 37,478 out of the 40,387 votes cast, beating his closest rival, the candidate of APGA, who scored 712.
He also won in Dunukofia LGA, the hometown of a business mogul and PDP Chieftain, Arthur Eze, scoring 18,715 out of the 20,198 votes cast while PDP scored 428 votes.
Below are the results from the 15 local governments announced so far while six more LGAs are still being awaited.
Dunukofia LGA:
A: 09
AA: 03
AAC: 04
ADC: 08
ADP: 014
ADC: 222
APGA: 290
APM: 06
APC: 222
LP: 18,715
NNPP: 52
NRM: 03
PDP: 428
PRP: 00
SDP: 02
YPP: 56
ZLP: 56
Registered voters: 77,138
Accredited voters: 20,406
Rejected votes: 320
Total votes cast: 20,198
Ayamelum LGA:
A: 04
AA: 01
AAC: 01
ADC: 0
ADP: 01
APC: 145
APGA: 245
APM: 01
APP: 0
BP: 05
LP: 17,032
NNPP: 21
NRN: 03
PDP: 405
PRP: 01
SDP: 02
YPP: 101
ZLP: 09
Total votes cast: 89,388
Accredited voters: 18,386
Rejected votes: 320
Total valid votes cast: 19,862
Njikoka LGA
Reg voters 109,752
Accredited voters: 33,460
A: 12
AA: 02
AAC: 0
APC: 405
APGA: 507
APM: 13
APV: 05
BP: 24
LP: 31,368
NNPP: 64
PDP: 479
YPP: 57
ZLP: 147
Valid votes: 32,945
Rejected votes: 485
Total votes cast: 33,430
Ekwusigo LGA:
Registered voters: 86,874
Accredited voters: 22,896
A: 07
AA: 02
AAC: 01
ADC: 06
ADP: 04
APC: 159
APGA: 162
APM: 02
APV: 05
BP: 16
LP: 21,498
NNPP: 47
NRM: 02
PDP: 362
PRP: 02
SDP: 03
YPP: 123
ZLP: 39
Total valid votes: 22,440
Invalid votes: 368
Total votes cast: 22,808
Anaocha LGA:
Registered voters: 113,297
Accredited voters: 36,040
A: 24
AA: 05
AAC: 07
ADC: 23
ADP: 30
APC: 178
APGA: 468
APM: 33
APV: 11
BP: 25
LP: 33,695
NNPP: 151
NRM: 04
PDP: 584
PRP: 05
SDP: 03
YPP: 78
ZLP: 148
Total votes cast: 35,472
Rejected votes: 535
Valid votes: 36,007
AWKA SOUTH
Total No Registered voters 206,669
Total No of accredited voters 60,629
ADC: 20
APC: 305
APGA: 1118
LP: 56,498
PDP: 963
YPP: 46
ZLP: 140
Total Valid Votes 59,438
Total Regected Votes 1191
Total Vote Cast 60,629
Anambra North LGA
Registered voters: 62,949
Accredited voters: 13,744
A: 04
AA: 0
AAC: 03
ADC: 03
ADP: 01
APC: 360
APGA: 357
APM: 13
APV: 7
BP: 04
LP: 12,400
NNPP: 37
NRM: 01
PDP: 226
PRP: 04
SDP: 0
YPP: 05
ZLP: 11
Valid votes: 13,445
Rejected votes: 269
Awka North:
Registered voters: 75,122
Accredited voters: 17,450
A: 18
AA: 31
AAC: 03
ADC: 01
ADP: 03
APC: 118
APGA: 526
APM: 08
APV: 04
BP: 11
LP: 15,561
NNPP: 57
NRM: 05
PDP: 454
PRP: 01
SDP: 04
YPP: 78
ZLP: 36
Valid votes: 16,919
Rejected votes: 530
Total votes cast: 17,449
Aguata LGA:
Registered voters: 147,428
Accredited voters: 40,550
A: 21
AA: 05
AAC: 14
ADC: 12
ADP: 19
APC: 301
APGA: 712
APM: 38
APP: 14
BP: 40
LP: 37,478
NNPP: 207
NRM: 13
PDP: 522
PRP: 06
SDP: 11
YPP: 198
ZLP: 146
Valid votes: 39,757
Rejected votes: 637
Total votes cast: 40,387
Nnewi South LGA:
Registered voters: 92,146
Accredited voters: 18,023
A: 16
AA: 02
AAC: 06
ADC: 08
ADP: 12
APC: 201
APGA: 145
APM: 07
APV: 05
BP: 16
LP: 16,767
NNPP: 53
NRM: 08
PDP: 201
PRP: 04
SDP: 04
YPP: 121
ZLP: 36
Valid votes: 17,612
Rejected votes: 314
Total votes cast: 17,926
Anambra West LGA:
Registered voters: 62,949
Accredited voters: 13,744
A: 04
AA: 0
AAC: 03
ADC: 03
ADP: 01
APC: 360
APGA: 357
APV: 13
APV: 07
BP: 14
LP: 12,400
NNPP: 37
NRM: 01
PDP: 226
PRP: 04
SDP: 0
YPP: 05
ZLP: 11
Valid votes: 13,446
Rejected votes: 269
Total votes cast: 13,415
Onitsha South LGA
Registered voters: 161,997
Accredited voters: 39,738
A: 17
AA: 06
AAC: 05
ADC: 13
ADP: 11
APC: 186
APGA: 119
APM: 21
APV: 08
BP: 27
LP: 38,403
NNPP: 131
NRM: 08
PDP: 287
PRP: 03
SDP: 04
YPP: 19
ZLP: 48
Valid votes: 39,317
Rejected votes: 385
Total votes cast: 39,702
Oyi LGA
Registered voters: 111,721
Accredited voters: 29,195
A: 12
AA: 04
AAC: 03
ADC: 14
ADP: 06
APC: 312
APGA: 551
APM: 11
APV: 06
BP: 10
LP: 25,950
NNPP: 83
NRM: 04
PDP: 1,142
PRP: 02
SDP: 05
YPP: 268
ZLP: 73
Valid votes: 28,456
Rejected votes: 641
Total votes cast: 29,097
Anambra East LGA:
Registered voters: 103,847
Accredited voters: 23,052
A: 13
AA: 02
AAC: 06
ADC: 10
ADP: 19
APC: 433
APGA: 489
APM: 14
APV: 10
BP: 29
LP: 20,755
NNPP: 75
NRM: 0
PDP: 350
PRP: 01
SDP: 05
YPP: 12
ZLP: 42
Valid votes: 22,265
Rejected votes: 608
Total votes cast: 22,873
Onitsha North LGA:
Registered voters: 174,502
Accredited voters: 51,533
A: 23
AA: 15
AAC: 08
ADC: 20
ADP: 14
APC: 211
APGA: 167
APM: 21
APV: 20
BP: 32
LP: 49,334
NNPP: 140
NRM: 13
PDP: 510
PRP: 03
SDP: 05
YPP: 24
ZLP: 54
Valid votes: 50,614
Rejected votes:
Total votes cast: 22,873